Tasty Morsels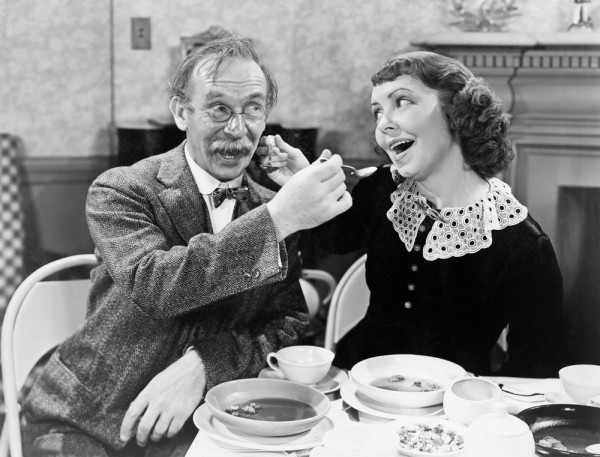 Yum Yum. And Ka-Ching.
The Summer Fancy Food Show is, by far, one of the most overwhelming and delicious business events of the year.
Just as the old fashioned farmers market is a gathering place for fresh food (and the people who love it), the Fancy Food Show is the business-to-business equivalent of that. People gather to eat food, to celebrate food (and chefs), to talk about food, and to critique new food. Unlike a farmers market, it's set in a trade show hall — and no one wore overalls.
What's new and tasty (or not)?
FRESH and FREE  seem to be the keywords of 2015. Trends we spotted last year have exploded and expanded. Manufacturers believe that if they slap "Non-GMO" or "Gluten-Free" on their product, it will instantly sell — even if it contains 1,000 calories and random crap ingredients and it tastes like a car floor mat (not that I've ever licked a floor mat, but I can imagine what one might taste like).
Ancient grains (see below) are hotter than sex this year. Who knew that chips could be made with everything EXCEPT potatoes or chocolate? Popcorn seems to be on the wane. In fact, mini popcorn or half-popped kernels are popular. Small and crunchy has replaced big and fluffy. Chocolate is no longer just milk, dark, and white. It's infused with bacon, cayenne pepper, and other assorted flavorings. (Where's a good pump of Bosco these days?) You'll be happy to hear that jerky is alive and well and has been totally upscaled and made from everything from fish to buffalo. (Among my favorite jerky guys are the ones at Duke's. Nice guys. Not jerks.)
As for the people who sell their wares at the show…
I love to catch up with the "little guys" who had tiny tables in the new food area last year but have now graduated to bigger and better booths on the main floor. Success rates in the food industry are about 66% these days, and when I see those that are surviving and thriving, I'm thrilled. Goodie Girl cookies, LifeIce, Chinese Southern Belle, NuttZo, Brooklyn Piggies, and Cracked Candy are among the brands I sampled and/or wrote about in the past and they have, through great unique products, solid branding, and awesome people skills (super important!) sold into major stores and appeared in major media. The fact that the companies were all started by women is the icing on the cake. (See my article in Huff-Po about women becoming bakers.)
You could have a great product, but if you're a nasty control freak (or some variation) your brand may not last. "Authenticity" is a theme voiced by Two Moms in the Raw (Yes…I really met both moms) and Joe Chips (which are actually made with potatoes and not kale, quinoa, or beets). Nice people making nice products…that's what it's all about.
I always have a soft spot for smart start-ups. Among this year's most memorable brands was Banza (pasta made from chick peas), a company co-founded by a Michigan alum (Go Blue!), who transitioned from finance to food. Not only was the product great, but the guys at the booth were truly passionate about their brand. I also liked E&C's Snacks. They were somewhere in-between a muffin and a cookie (not a bad place to be) and only 110 calories.
Food is life. We all need it. We all eat it. The people who go into the business (growing, manufacturing packing, marketing, and selling it) are passionate about what they do. But tracking food trends and consumer tastes and selling into retail channels is more challenging than ever before. Like many consumer products, word of mouth (pun intended) can make or break a brand. Those who survive and thrive have to have more than a cool idea and a recipe.
I hope to see all of you in bigger and better booths next year!
(By the way, if I met you but didn't give you a shout-out here, feel free to send me a note or just comment on this post with a link to your site. I'm all about sharing a great dish!)