April Was the Cruelest Month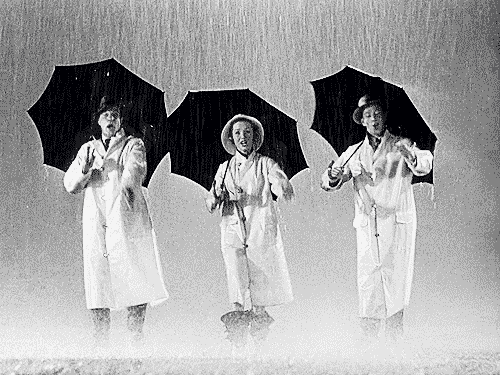 Reading Time:
3
minutes
Whoa! That's a pretty heavy title for a post.
Never a huge T.S. Eliot fan, I even had to Google what that line means. In short, memories are triggered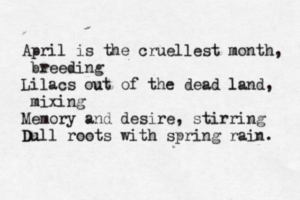 by springtime, and despair abounds as the numbness of winter melts. Oy! Eliot was clearly not a happy dude.
You probably don't want to get depressed while reading this. You might as well read "The Waste Land."
Even though my month sort of sucked for a variety of personal and professional reasons,  I'll keep this post inspirational and upbeat.
When I look back at the past 30 days, a lot of great things happened.
April was the first month out of 17 in Arizona that I haven't traveled at all.
The good news is that I finally feel "settled" in my western home. I attended quite a few local events, met great people, and was finally able to establish a work-out routine. But my realization is that, much like the cowgirls I identify with, I am wanderlustful and curious. I need to leave my ranch and ride around the prairie in order to be truly happy and challenged.
Although Phoenix is growing rapidly, I find myself missing New York snark and energy much of the time. Making friends in later life (especially as a solopreneur) is not easy, but I haven't given up hope.
As cruel as April was, I often found myself "singing in the rain."  Yes…I am mixing T.S. Eliot and Gene Kelly here.
The month in review…
Meeting & Greeting
Brand- and Business-Building
I landed two new tech-related clients and a fun freelance writing assignment. I also applied for a few new gigs. Although certain industries are booming, the misconception exists that experienced = overpriced. Never assume. Turnover among young employees is dramatic and can be costly, due to hiring and retraining expenses. Grey hairs (especially tech-savvy ones like me) are a good bet.
I was featured in a video about women in tech, produced by an ASU student. Very flattering.
Although I suffered from a mild writer's block, I still churned out three Thrive Global articles and my monthly e-newsletter, which generated one of the highest open rates my e-mails have ever gotten.
The very good news for the future, starting next month is that:
WeWork (my community for more than seven years) is coming to Arizona in August.
I'm opening the month by watching the Yankees play the Diamondbacks. I can't always get back to New York, but sometimes NY comes to me.
I have an awesome journey planned for May — an excursion to the National Restaurant Association Show (Chicago) and the Collision Conference in Toronto.
I will be leading tech workshops for MPI (Meeting Planners International) and for the AZ Technology Council this fall. Watch this space for details!
So, with all due respect to Mr. Eliot…April can be cruel but May is usually full of flowers, sunshine, and all kinds of wanderlusty (and other) surprises and cavorting.
So, whenever you need a boost, just shout "May Day" and I'll help you sprout new ideas for innovation, fun, new connections, business growth — and shake off the cruelty of April.