Like a Kid in a Candy Store…Literally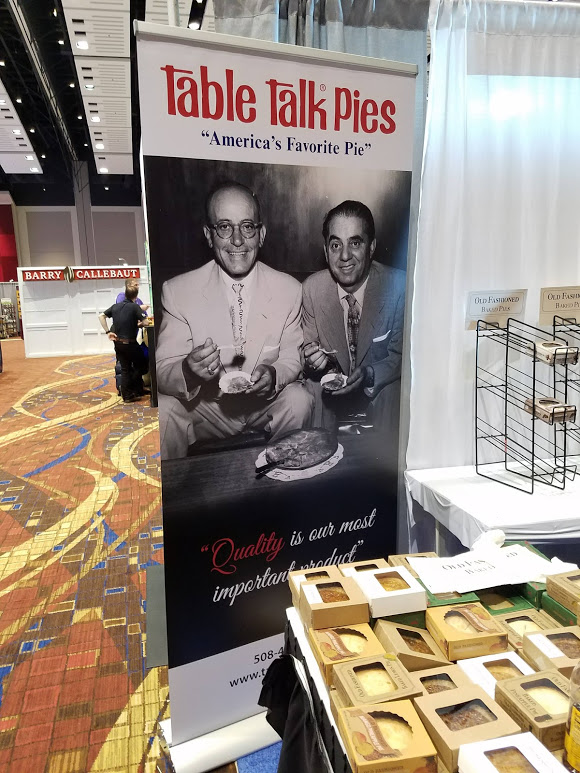 Reading Time:
5
minutes
"The candy man can…He mixes it with love and makes the world taste good…"
sang Sammy Davis Junior and several others. (See below and sing along!)
So, when the National Confectioners Association invited me to speak at their annual Sweets & Snacks Expo (a panel on the women of the industry — see below), I felt a sugar rush indeed! I had been to the Expo once before and love the combination of big brands and new undiscovered products.
Although candy is EVERYWHERE, I also found an incredible range of healthy treats — from meat sticks to cheese to every manner of chip and popcorn to breakfast options.
"One of the secrets of a happy life is continuous small treats." Iris Murdoch
That about sums up my three days at the Expo. I focused primarily on meat sticks and a wide array of
vegetable chips and sugar-free options but my sidekick served as my taste-tester of candy and cookie treats. I indulged in one of my favorites towards the end of the Expo. I admit that I even needed to buy a new piece of luggage (at right) to bring my sample haul back to Arizona.
In summary, here my sweet and savory selection of trends and insights:
Start the day right and take your vitamins. I've been eating Purely  Elizabeth products for a while now, but I actually got to meet the REAL Elizabeth. She sent me home with a full-size bag of Superfood Oats. A random turn down an aisle took me to another of my fave products — Good Day Chocolate.One of my doctor friends has pooh-poohed my eating chocolate tumeric and Vitamin D, but whatever gives me pep or mellows me out (and helps me rationalize eating chocolate). Need more Omega 3's? Probably. Susie has a cookie (and even diet) for that!
Crunch your veggies. Farewell, Mr. Potato Head? Although potato-based chips are still prevalent, our dear tuber is being displaced by peas, avocados, mushrooms, beets, and jicama. If you can grow it, you can turn it into a chip, puff, or doodle, I discovered. My favorites:
Lick it and pop it. Sucking on a sucker makes me feel like a kid again, but now you can indulge without fear of cavities. Dr. John's Healthy Sweets is the invention of dentist Dr. John Bruinsma. Bazooka and Big League Chew are as popular as ever, but have now been joined by brands like PUR and Grenades
Meat me by the jerky, sweety…and then say cheese! Over the years, I've probably sampled every jerky and meat stick brand. Many of these meat treats are filled with lots of sugar and one never knows where the cows, fowl, or pigs were raised. If I'm going to eat meat, I want my animals clean and classy. My "best of show" picks were Nick's Sticks,  Country Archer, and the wonderful woman-owned Two Chicks Jerky. Although they are no longer feuding, Hatfield & McCoy even have their own jerky brand. The best cheese comes from Wisconsin, and it curds so good at Tara Pearson's Wisconsin's Best booth.
From generation to generation…Exposing ones kids to your favorite childhood treats is a parental obligation. And that strategy is obviously working. Brands that date back 100+ years are still going strong. Goetze's caramels (circa 1917), Table Talk Pies (dating back to 1924),  Red Vines from the 1914-founded American Licorice Company, Tastykakes (also launched in 1914)]. Roll (as in Tootsie Roll — birthed in 1896) down memory lane with this list of popular candies from years gone by.
Gluten, be gone! Creating treats that are devoid of gluten and still taste great used to be a challenge, but the options are practically unlimited — from pretzels to cookies to snack bars. A great one (aptly named Truth) has prebiotics and probiotics and tastes like a candy bar. Siete makes grain-free tortillas
You go girls! Speaking of no gluten and extra guts, Shira Berk (founder of Goodie Girl Cookies) was just one of the stars of the panel I moderated. The purpose was to give women entering the industry tips on how to succeed and to give men in the industry tips on how to support our efforts. Mentorship, women supporting other women, finding ones voice, making time for family and self-care, and lots of therapy were among the topics we touched on. See the full list of panelists here.
Pop stars (as in popcorn manufacturers) were easy to find. Flavored with every type of cheese, spice, and topping, these kernels are here to stay. I have a soft spot in my heart (or is it a crunchy spot?) for Pipcorn, because the brother/sister founder team is just soooo nice and friendly and down-to-earth.
And yes, I ate a cricket. Why? It just seemed like the right thing to do at the time. And it's supposedly good for me.
The show gave me a Riesen to live. After a couple of days of generally healthy and clean eating, I decided to indulge in something decadent, chocolate, and rich. The Storck (makers of Werther's Original Caramels and Toffifay) booth looked like it had been invaded by an army of sweets-starved ants. The last day of the show is the time for somewhat controlled looting and pillaging, when attendees roam the floors, gathering as many samples as they can. And exhausted exhibitors gladly give them away so they don't have to pack and ship them. The salesman retrieved a bag from the back room, opened it just for me, and put the single piece of chocolate in my hand. I felt a little Wonka-ish as I savored it. Totally worth the extra kettle bell swinging and spinning I'll have to do this week!
Last year,  confectionery companies came together with the Partnership for a Healthier America to launch the "Always A Treat Initiative." The companies involved — Ferrara Candy Co., Ferrero, Ghirardelli, Lindt, Mars Wrigley Confectionery, Nestle USA and Russell Stover – committed to giving consumers more options in smaller pack sizes, portion guidance, and clear calorie labels right on the front of pack. We can all now indulge responsibly, whether we're craving insects, chicken sticks, cheese, crunchy snacks, caramels, chocolate, or cow tales.
All I really need is love, but a little candy now and then doesn't hurt!  

Charles Schultz
More sweet and savory stuff
| | |
| --- | --- |
| | The Candyman himself. |
| | Jerky is a billion dollar business. Hershey gobbled up Krave in 2015 for $220 million. |
| | Show-goers who take food that is labeled "These are not samples" should be sent to candy prison. Most exhibitors were generous with giveaways if you asked politely. |
| | The candy industry is committed to giving consumers honest information. By 2022, half of individually-wrapped products will be < 200 calories and 90% of best-selling treats will have calorie information on the front of the pack. The confectionery industry has an economic impact of $35 billion. |