Out of Fashion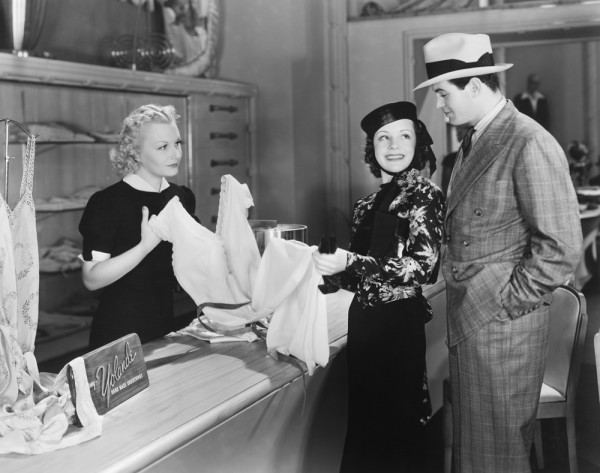 New York Fashion Week is happening…
(or, not happening, according to the New York Post, which claims that the style has been sucked out of this annual event.
The fashion industry is HUGE! In the U.S. alone, people spend $250,000,000,000 on fashion. And annual global fashion industry revenue is $1,200,000,000,000. (Find more stats at the link below.)
Body adornment is nothing new. (I'm still waiting for the designer loincloth to make an appearance!) Clothing has always reflected political and class status, social mores, and pop culture influences.  (Here's a great overview of the ancient fashion — including accessories!) As a survivor the 1980's shoulder pad and nude pantyhose era (aka Power Dressing), I am happy that business fashion trends for women have relaxed over the years.
As freestyle as we now are in our clothing choices (casual Friday has become casual everyday in most circles), the grand poobahs of the fashion world (some self-appointed) attempt to steer our decisions and retail options.
Color
Forcasters say this spring's colors will  "transport us to a happier, sunnier place where we feel free to express a wittier version of our real selves." That will be good for my writing, I suppose. I'd better get my Green Flash on!
Fashion Technology
As in all industries, technology and social media play a huge role in how consumers share and shop. Polyvore build the first major site for playing around with fashion looks (think Colorforms all grown up and on your device).  A new technology will enable you to snap a picture of something on the street, find out where it came from, and buy it.  Like a Shazam for fashion. Creepy but cool. Designers are now using 3D printing to make amazing one-of-a-kind fashion. And, of course, people are now all starting to wear accessories that do things — like track activity and location, capture and transmit the world around you, and even remember passwords.
Celebrity Style
From the first lady to Kanye West, consumers seem obsessed with what political, Hollywood and TV stars are wearing. (The lines between those categories seems to be getting very blurry…I hope the Trump coif doesn't become a "thing") You can even monitor what the stars are wearing on this website. 
Personal style is part of your business brand too. Like it or not, we are judged by the way we appear and dress, and, of course, smell.
My business/speaking coach spent time a few years back  helping me zoom in on my look. At the time, I rolled my eyes when he asked me to define my "rockstar style" by cutting pictures out of magazines. But, it ended up being really helpful, making shopping for clothes and packing for business trips much easier and less expensive.
Every summer I help run a camp for tweens and teens who are interested in retail fashion careers. Kids come from around the world to become part of the New York fashion scene. I'm always humbled by their savvy and style…and feel rather unkempt and nerdy for two weeks. They do all seem to know who Coco Chanel is, proving class and the little black dress never go out of style.
But I'm still thinking about that loincloth thing. And, if it had a GPS tracker in it…
Fashion-forward reading…