Weed People: The Human Side of Cannabusiness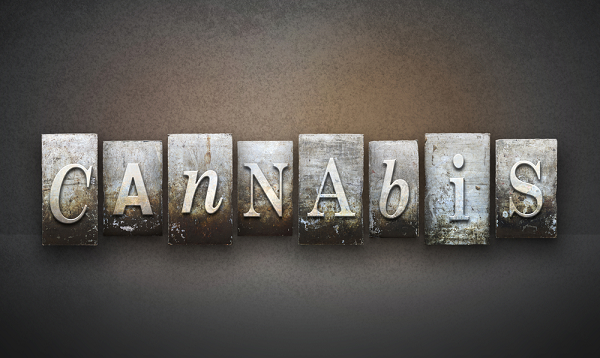 Inhale these insights…
I'm taking a break from my Thanksgiving-themed blog posts this week to talk about a different kind of harvest — the rapidly growing cannabis business and the people who are in it.
As of now, twenty-three states and DC have legalized medical marijuana and four states and DC have legalized recreational weed. Here's a recap.
I've been spending time recently around people who are involved in the medical and business sectors of this industry. They don't wear tie-dye tee shirts. They don't carry vaporizers in their front pockets or have bongs on their desks. (By the way, the "head shop" of the 1970s has given rise to the mega online weed accessory stores like this one — the Amazons and Etsys of cannabis.)
As with any new industry, people are figuring out how to make money and utilize and re-purpose their skills. Just because someone works in the cannabis industry, you can't assume they are users of the product. In fact, many of the serious people I've met lately admit to never getting high.
In  the bar and nightclub world (where I teach workshops and blog for the industry's website), the true power players aren't pounding down shots and getting wasted during business meetings. Genuine and successful cannabusiness types keep clear when they are doing business. It's estimated at a $3 billion industry…the fastest-growing in the U.S. It needs some adult supervision, for sure!
I've created my own little Boston Consulting Matrix-type grid of the people of the cannabis industry. The definition of recreational and medical marijuana are pretty obvious. But I differentiate between suits and stoners. I don't judge…I just observe behaviors.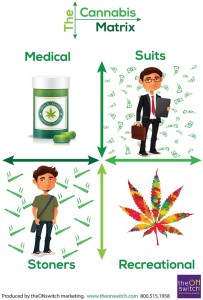 The former are those people with some business experience or vision who have joined the industry because they view it as a real enterprise. The stoners are those folks who like to get high (often during work hours) and are delighted that they can now be part of a more public community and opportunity for prosperity. They often claim that they can work effectively while stoned, but straight people can usually "smoke out" the lack of focus or other signs. The stoners know their products intimately. But if they don't stay focused and articulate and learn to work and play well with the business guys (and women), they will actually do more harm than good for cannabranding.
Of course, a natural tension exists between the two groups, as suits are viewed as the "carpetbaggers" of the green rush. See the links, below.
I just finished writing an article about branding for MG Magazine, one of the leading trade publications in the industry. I actually got paid to write — a rarity these days. The editorial process was professional and refreshing.  Ralph Nader is the keynote at the Marijuana Business Conference and Expo this week. I'll be 100% focused and taking copious notes. I guess that makes me a suit.
Some facts…