Route 66 Installment #33: August = Unplugging (and Elevating)

Reading Time:
2
minutes
Can the summer really be almost over?
I'm deluged with back-to-school shopping pop-ups and retailers have even begun to put out Halloween decorations.
But NOW is the time to fully embrace those last lazy, hazy, crazy days of summer.
Unplug from your devices (as best you can).
Take yourself to a higher level (literally and/or metaphorically). See below.
Ruminate on how you'll spend the final months of 2022.
I got high. 10,152 feet high.
That was the altitude in Leadville, Colorado, where I spent a glorious weekend — hiking, "salooning," and learning about history in an era long before smartphones, Ubers, and Instacart.
In fact, poor Baby Doe Tabor froze to death, alone and penniless in a derelict cabin, atop a hill.
Lesson learned:
Even if some dude offers you silver and gold, take care of your own ass first!
I've loved my journeys to the historic west because I realize how far we (especially women) have come since that era, and how much further we have to go.
Nobody puts Baby in a Cabin.
(I couldn't resist that!)
The thin air in the mountains can be a challenge, but I stayed hydrated and paced myself.
And I learned how to use the panorama function on my phone camera.

I unplugged as best I could, although taking pix of the scenery was just way too tempting.
"Elevation" doesn't just apply to how many feet above sea level you're traveling. It has to do with learning new things (at any age), taking calculated risks, and exploring.
So, if you haven't arranged something a little daring this summer, you still have time.
Never stop digging for your fortune, but don't be afraid to ask for help when you need it. Be optimistic and trusting, but realistic.
Learn a little something about history or another topic that will expand your brain.
Put down those devices every now and then and enjoy nature and friends/family.
Be grateful that you can just order a blanket, space heater, spiked seltzer, and pizza when you're trapped up on a hill.
Don't let your age hold you back from prospecting for precious metals.
In the words of Robert M. Persig, author of Zen and the Art of Motorcycle Maintenance:
"People spend their entire lives at those lower altitudes without any awareness that this high country exists."
And, in the words of Calamity Jane: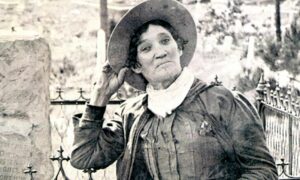 "I figure, if a girl wants to be a legend, she should just go ahead and be one." 
Happy August! Get elevated!