The Wild & Weird Adventures of Scooter Girl: Installment 5 (HELLA HEALING or "TIE ME UP!")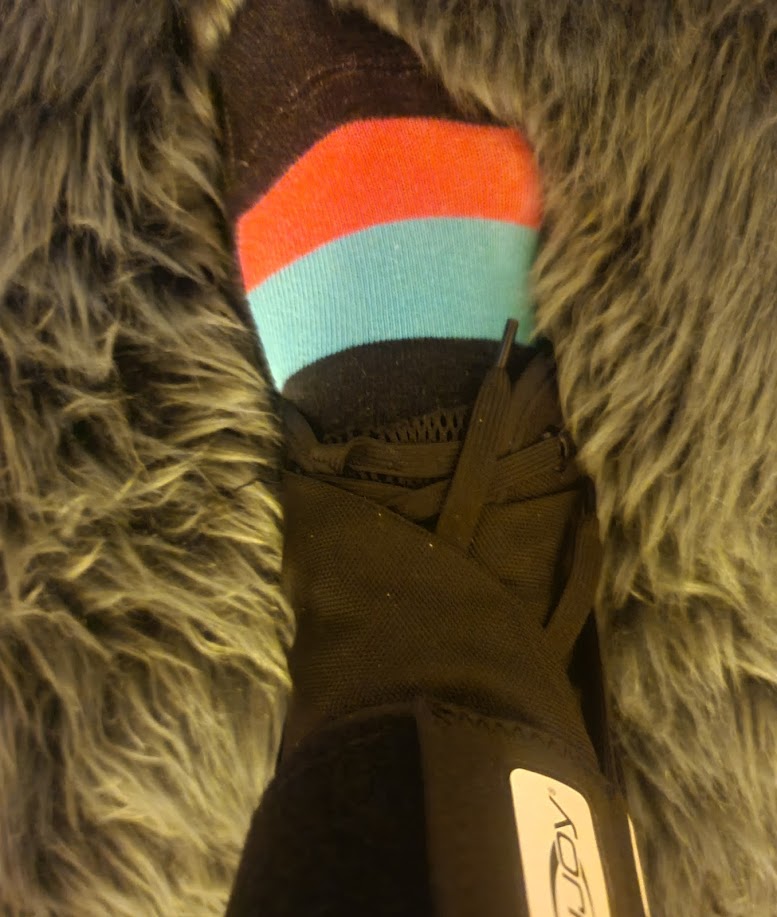 Reading Time:
3
minutes
Imagine my delight when the doctor told me I could give up "the boot"
(Or, at least much of the time.) Those welcome words were well-timed. I had just had a horrendous airport experience, thanks to American Airlines.
On the way back from a truly wonderful holiday week, a bullying employee made me check my (correctly-sized) suitcase at the gate, which made for more drama and pain at my destination. (And, of course, they never responded to my customer service message, which says a lot about how big companies treat the disabled.) I was also left to sit in a wheelchair in the middle of the airport for ten minutes.
If nothing else, this experience has taught me to have way more respect for people who are physically challenged and the brands that make life easier for them.
Ironically, my colleague Klaudia at B2BMX broke her arm last month, so we've been swapping tips on working with a disability. I now get all her e-mails via voice, which is actually very human and kinda nice. By the way…you should DEFINITELY register for the event, because:
It's in Arizona, so we can hang out. At the Phoenician, no less! We can hang out in bougie style.
You'll learn an incredible amount about business-to-business marketing.
I'm moderating a panel about marketing across the generations. The panelists are three incredible women from the B2B world. We put the SaasSy in SaaS!
End of commercial…back to my foot.
Tie Me Up, Baby!
Although I didn't actually call Shane (the PA in my doctor's office) "baby," he did in fact show me how to tie up my new cool soft boot (pictured below). It's more like a big sock and I can even wear a shoe over it. The brand is Donjoy, which is especially fitting because I was joyous when I got it! I've learned to be grateful for small miracles.
My "joy brace" has lots of laces and velcro and I felt like a kid learning to tie their shoes for the first time. But I've fully mastered the technique.
I also got a scrip for physical therapy and I booked six weeks' worth of appointments (but I'm hoping I may only need four or five). My goal is to get rid of my unbalanced walk and be back up to walking five miles by my birthday in February. In fact, I may extend the life of this blog through my full recovery.
I'll attempt driving a short distance this week, but will be careful not to slam on the gas or brake.
What I've Learned in the Past 35 Days
Resilience and positivity have been my keywords for the past five weeks. Plus:
Many people have way worse injuries than I did and should be viewed with care and compassion. The world and its people are not always sensitive to the needs of people with physical challenges.
Changing plans and habits can be tough, but it forces you to become more adaptable and even gain new skills. (e.g., I knitted and cooked more than I would have otherwise. I taught myself how to create Insta stories and got my holiday cards out and wrote my 2022 Business Plan super-early.)
True friends come through during tough times. Saying, "Let me know what you need," is great, but check in on injured and sick friends when you can.
I should limit high heels and be extra-careful exiting SUVs.
Stay safe, calm, and grateful in the weeks ahead!
Up next: Healing Through the Holiday Season