What are the Men of Tech Wearing These Days? (And Other More Thoughtful Insights from Collision 2018)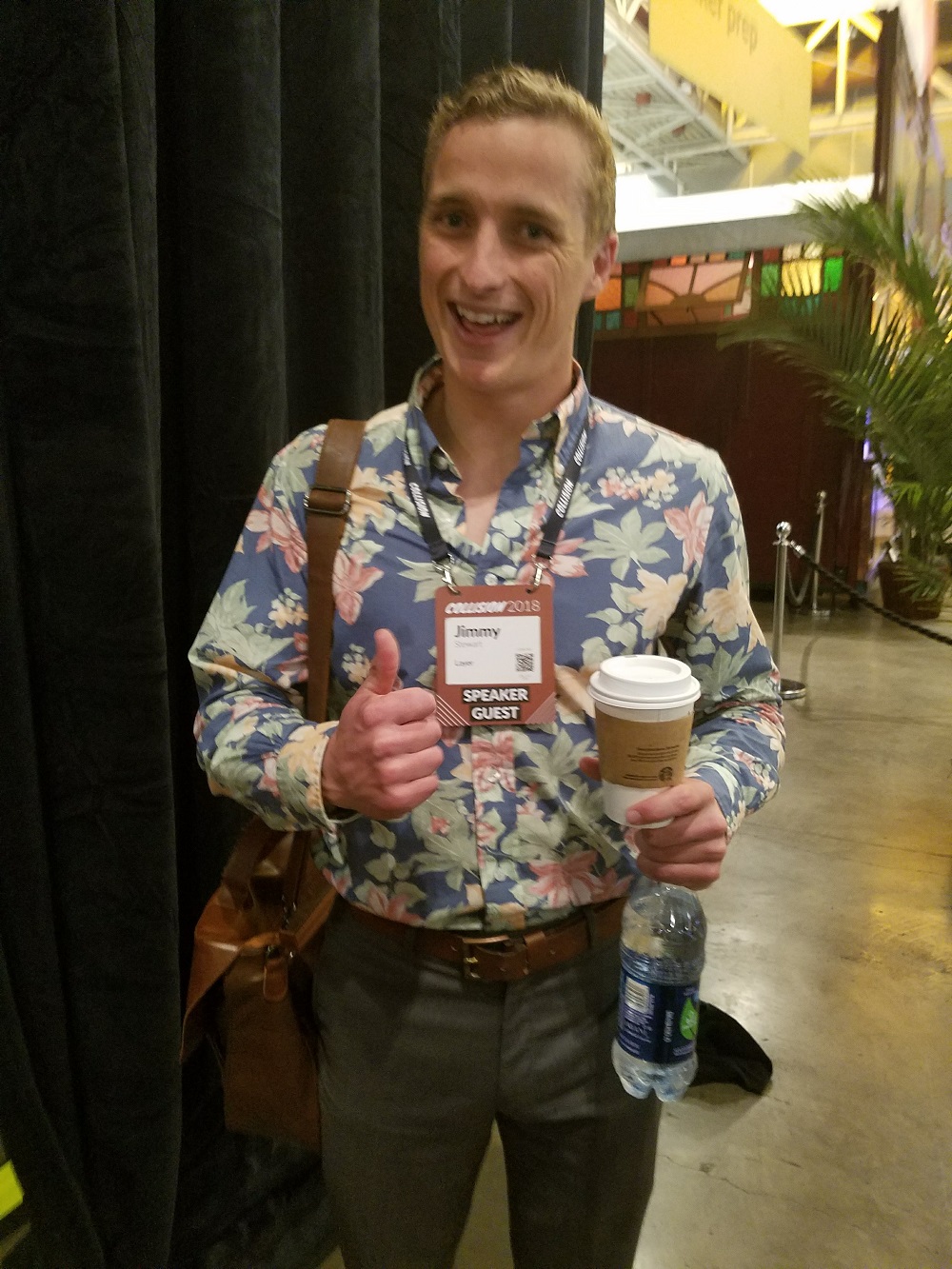 Reading Time:
5
minutes
Hats are hot.
As are women in tech, and anything health- or fin-tech related. Oh yes…saving the earth is a top priority too. Because how will hundreds of thousands of people found new businesses (some of which we don't really need)  if they don't have a planet to found them on? Al Gore keynoted on the first day.
This was the best Collision yet.
Perhaps it was because after three years I intimately know what it's all about and how to navigate it. Perhaps it was because 2018 is the last year in the U.S. and I was enjoying my final days in New Orleans. Or perhaps it was because this is the year of the woman in tech and I felt warmly welcomed.
Of course, I have to also give lots of credit to Paddy Cosgrove and the organizing team who have completely disrupted the concept of the conference and manage to produce "experiences" rather than your grandma's boring and formulaic trade show or a parody of SXSW. The age range was teens to 70's and 25k+ people came from all over the world. In short, it's the 1964 World's Fair of innovation — updated, amped-up, and without the Unisphere. But we do have the iconic orange sign (see pix).
The sessions are 20 minutes long (perfect for short attention spans). The exhibitors change every day (giving more founders an opportunity to showcase their ideas). Attendees and speakers alike are open to "colliding" with each other day and night, with interesting conversations happening from morning (which starts at 9am, allowing for recovering from previous nights' celebrating) to whenever o' clock. My latest night was about 1AM. There is not yet an app to remedy sleep deprivation.
10 Highlights
Booking.com earned extra points (and my ongoing business) by sponsoring a Women in Tech lounge, that was open to both women and men. I interviewed CEO Gillian Tans, who gave me her perspective on how to build a truly diverse and global technology company. Watch for it in my Inc.com column
I need to stop being an ugly American. I have spent too much time in the U.S. and the opportunity to meet people from all over the world was refreshing and enlightening. I also learned about MaRS Discovery District in Toronto which is a city-within-a-city, dedicated to innovation.  I'll get to see it live in August, when I attend Uberflip's Conex. I also now have invitations to Israel, India, Belgium, Amsterdam, and Lisbon.
C-level executives are always inspirational, and although some have PR or in-house marketing people guiding them, they are way more approachable and candid than the "suits" of the '70s and '80s. In addition to Gillian, I spoke to C-level executives at Peleton, Bitmoji (now owned by Snapchat), Moz, and Crunchbase. Again, read my Inc.com column over the next few weeks for more.
The line-up of speakers was truly exceptional. Even though no one can possibly attend all the sessions, the organizers did a great job of giving attendees more opportunities, with informal Q&A sessions after the big sessions.
Not all technology solves a problem. Out of the thousands of demos over the three days, I would estimate that fewer than a hundred were really groundbreaking and necessary. Founder fever has consumed millions, but I think we need to get back to starting with customer need and then building around that, doing competitive research too and making sure what someone is building/making doesn't already exist in another form. (My next post will, however, deal with some of my faves and why I think they have a shot at succeeding.)
The Media Village was, as always, welcoming, well-staffed, and well-caffeinated. The PR firms that attended (big and small) were knowledgeable and fun. And the organizers themselves sent out photos and video recordings of all the sessions on the last day of the event. They clearly understand the importance of media (new and old) in keeping a conference alive year round and supporting their sponsors and exhibitors with easy access to media.
Mentoring hours gave start-ups access to free consulting, and I felt I was able to give back to the

tech community by sharing my expertise in branding and storytelling.

Women's Roundtables (men invited too!) gave us an opportunity to discuss solutions to the dearth of women in the industry and some of our own self-imposed obstacles to success.
Night Summits and Speaker Receptions were way more than excuses to drink and eat crawfish. People actually did wear their name tags to a party sponsored by Kradle at a nightclub, and networking was going on amidst the drinking and dancing. Accenture sponsored a low-key cocktail party at a mansion too (where I discovered that many musicians are now involved in technology careers. More to follow on this! Thanks Jonas of PubNub for your insights!) Play and celebration are an important part of any conference, and Collision does that exceptionally well, creating opportunities for people of all backgrounds and ages to party and eat together.
Oh yes…the fashion. The days of the hoodie have passed. Although I spotted a couple of suits and the ubiquitous blazer/khaki combos, these are just a few of the "tech runway" looks of 2018. Women have viewed fashion as part of their personal brand images for quite a while and men now seem more comfortable incorporating their looks into their business personas. (It makes packing for conferences easy too — but just don't crush that hat!)
Over the next few weeks I'll be sharing more in-depth insights on Inc.com and will also be gearing-up for my self-proclaimed "Eat Week," as I attend the National Restaurant Association Show (where I'll be covering food/beverage tech) and the Sweets & Snacks Expo (where I'll be leading a panel on women in the industry).
A limited number of free passes are available for my panel. You MUST be in the industry and be vetted by the organizers. Here's how to apply.
I'm also hoping to get to Web Summit (finally!) this year in Lisbon and of course I'll be at Collision in Toronto in 2019.
Although my days of working in the trade show industry are long past, I still find conferences the best place to gain new insights, make new connections, and travel way outside my comfort zone. I've perfected my "system" for attending and follow-up to conferences, and I will be publishing it later this year as an e-book. Stay tuned…
Let me know where you'll be too, so we can collide!
More random pix: