I am a Comad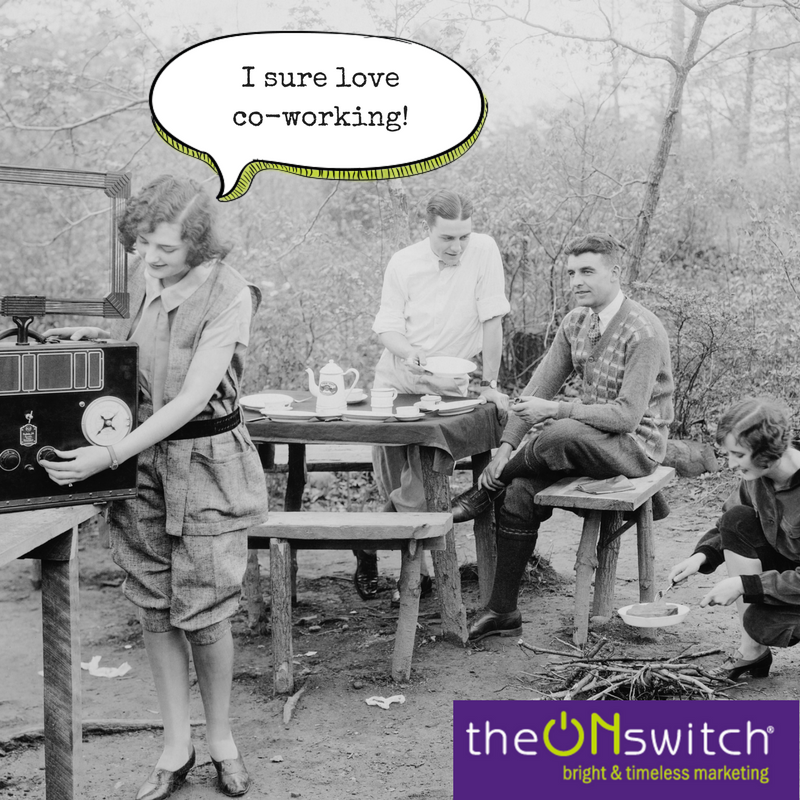 Reading Time:
4
minutes
I've coined a new phrase.
Comad = a co-worker who uses multiple locations. 
Does that make me comiscuous? Or do I have a fear of comittal?
First, some background…
For those of you who don't know, co-working is (according to the Wikipedia definition)  "a style of work that involves a shared workplace…and independent activity.  Unlike in a typical office, those co-working are usually not employed by the same organization." The Harvard Business Review asserts that people thrive in these places.  I agree. I've been a member of WeWork for more than years (and still have my remote membership, which is great for traveling) and I now work out of various Regus locations in Arizona, including their new concept offices — Spaces.
Globally, at least 15.5k co-working facilities exist. The varieties seem to be endless — women-only, tech-centric, minimalist, luxury, non-profit-focused, pet-friendly. They are the sororities or fraternities of work life. Every co-worker can find a space, vibe, and community that's just right for him or her.
Now about my week…
This is the first week since I moved to Arizona when I haven't been traveling. Rather than working out of my home or my gym, I decided to comad around the Phoenix area. I spend Monday downtown at the new Spaces. People seemed to be pretty heads down and focused throughout the day, but I loved the views of both high-rises and mountains and got a little fix of urban life (which I desperately need at times). I plan to go to their grand opening shindig, where I'll meet my "neighbors."
I also discovered a Regus which is walking distance from my home, so I can log those Fitbit steps and get some Vitamin D and sun in my face to and from the office. (One of the things I miss about New York is the walking.) The crew here is super-friendly.
I do what's known as "hot desking," which means I don't have a dedicated office but that I can I sit in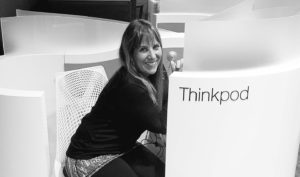 one of their Thinkpods near the kitchen. TV news seems to be on all day, so I can stay current and refill my water bottle. Yesterday I was at a different Regus, which was  filled with teenagers. (Perhaps a tutor or therapist had an office there.) Which brings me to my advice on how to know if co-working (specifically hot desking) is right for you.
You don't want to cost/headache/responsibility of taking care of your own space — especially things like printers and refreshments.
You love meeting new people and aren't afraid to say hello to them and ask what they do. I've made some terrific business and personal connections over my years as a co-worker. I met my web developer in WeWork Minneapolis. Just today I met a custom jeweler who may be able to replace the earring I lost in spin class. You never know…
You can tune out random background noise. WeWork plays music constantly in their locations. Some days it's great. Some days I went home with a headache. The other day, a guy was eating Chex Mix REALLY loudly in the common area. Thinking in my Thinkpod was tough that day.
You can get over sharing stuff (like signage and front desk staff) with other people. Some pretty big brands were at WeWork in New York and Minneapolis and Spaces in Phoenix. Community and cost savings seem to have won out over ego and ownership. In addition, co-working lets you scale up or scale down. When I had a dedicated team, I could just move to a different office when I needed more or less space.
You don't really want to work in a Starbucks (or other coffee shop). It doesn't have a quiet conference room and after a while you can get really over-caffeinated — which is never good for business.
I still have a few more local Regus co-working spaces to explore in my neighborhood and I'm looking forward to the opening of the new Spaces in Old Town (in the same building as Experience Scottsdale and Yelp).
After decades of going to the same dark wood office every day, this lifestyle — and the creativity, productivity and connections it generates —  definitely agrees with me.
More random co-working stuff…