Chinchillas & Chain Mail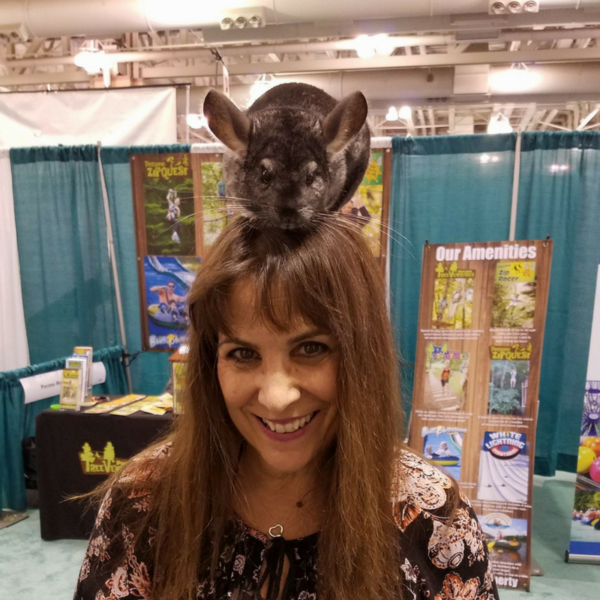 Where else can you wear a rodent on your head, talk to a man in full Camelot garb…
learn how to work productively with introverts, design with a giant Lite Brite, try on Snap specs, eat gluten-free pizza and pretzels by day and drink beer at night, watch knockerball, and play ping pong on a table that is also an art installation? Only at the Tri-State Camp Conference, of course!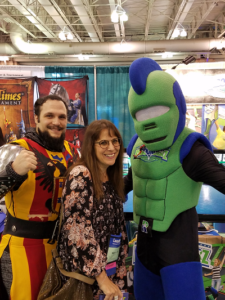 I've been attending (and often speaking at) this trade show and conference for almost ten years. It's a wonderful event. Not just because they invite me to speak, but because it personifies community. In fact, the entire event is produced by a small group of Association staff and close to 90 volunteers.
That's right…volunteers. Unpaid people who have the passion and skills and cooperative spirit to put on a huge event (when they aren't busy running or working for their own camps, summer programs, and retreat centers). Plus, an awesome group of interns helped out with the event. When I didn't have the right laptop adapter and my supplies didn't arrive on time from Staples (due to the winter storm), people jumped in and helped. That's the camp spirit!
Although I speak at lots of different types of industry events, this one has held a special spot in my heart for years. Just like summer camp, it's an environment of cooperation, effectiveness, and joy. Other industries could learn a thing or two from the summer camp world.
Camp directors have more reasons to whine than most CEOs. They are responsible for facilities management and improvement (including insurance), need to re-staff every year with a diverse and skilled workforce, and have to deal with and delight not only with their customers (kids) but with their customers' parents and other relatives! But they love what they do and, when they get together in one place, the spirit is contagious.
Although technology has changed the way camps market themselves and maintain their databases, the camp world is one that is all about unplugging. (The one exception at the show is a company called BlackRocket that teaches kids how to create games and useful things using coding and 3D printing.) Otherwise, camp is designed to be all about the simple things that matter in life…nat
I come back from the show with a renewed passion for all of those things – as if I actually got to spend a summer at camp. In fact, many camps are introducing adult programs for that very reason.
I've barely left the conference and I'm already eager for s'more!
(Sadly, I couldn't keep the chinchilla!)
5 Lessons from Camp People You Can Apply to YOUR Business
Make strangers feel welcome…talk to everyone…embrace diversity…don't tolerate bullying.
Work on solving problems collaboratively; make meetings fun and efficient.
Play is great. It can help build teams and relax you.
Embrace your fears. Putting a rodent on your head won't kill you.
Unplug from technology from time to time. You'll be amazed at what you see and hear!