The 100 Years Club Installment #43: Vertigo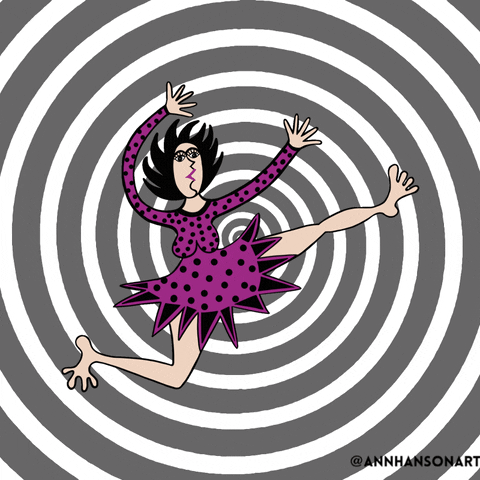 Reading Time:
2
minutes
This month, the theme is gratitude.
And I started November with a health scare. As a woman >50, I avoid talking about my aches and pains and doctor visits.
First, because I'm very healthy.
And second, because it's a surefire way to be perceived as a Geezer.
But this week, I was hit by a nasty episode of positional vertigo, which basically feels like a bad hangover. The room spins non-stop.
It seems to have corrected itself after three days of wooziness, but it was a huge reminder of how fragile life is at any age and how we need to treasure those small moments of health, happiness, fun, learning, and closeness.
Not to be overly woo-woo, but sometimes the universe gives us a good swift kick in the ass and takes us back to a better place…on solid ground.
I began Saturday by thinking about all the positive things that happened this week and what I have to be grateful for.
My younger daughter just had a daughter! I get to be a "Bad Nana" once again! This news eclipses anything else that happened all year.
I'm working with some amazing, fun clients. RacquetX, Street Fight, and Lane Terralever are among the best groups of people I've worked with in years (perhaps decades), and they appreciate my creativity and humor (which can be rare).
I prepared for my 3-week journey to NYC and Maryland. Like all my trips back east, it'll be a great mix of work, family, friends, culture, adventures, and seasonal feasting. (You can find my packing tips here.)
My podcast (The Geezer Proofer) is up and running, and I'm getting the hang of interviewing guests and doing solo shows. I've also gotten into the groove of critiquing The Golden Bachelor every Friday as part of my ongoing crusade to call out ageism and stereotypes when I see them. (Think of me as the Gloria Steinem of the Silver Respect movement!)
I am actively involved in two volunteer initiatives with Yonkers Partners in Education and the newly rebranded SOS.
My recent post about LIFETIME Fitness' new ageist policy met with (mostly) positive feedback, and I plan to post more often in 2024 about how big brands are portraying (or ignoring) 50+ consumers in their marketing.
My social media database (aka "fan base") is up almost 15% from January, with zero spend on advertising.
The exercise of coming up with "7 Great Gratitudes" each week is a way to keep ourselves distracted from the horrible things happening in the world right now and remind ourselves that every day/week/month is filled with good (and sometimes even great) moments.
And, of course, I'm REALLY happy not to be dizzy anymore. Because life, after all, is about balance (literally and metaphorically).
What are YOU grateful for this week?