The 100 Years Club Installment #42: I'm Not Afraid of "Giants." Nancy Challenges LIFETIME Fitness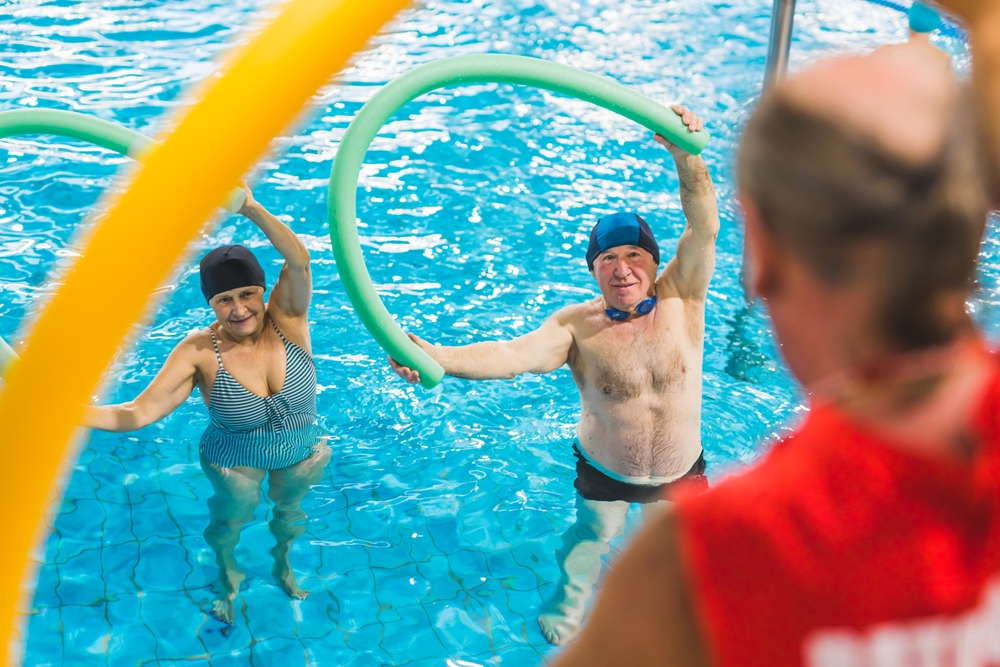 Reading Time:
3
minutes
I don't expect to get anything for free — at 67 or at any age.
My Medicare consultant told me about a great program where I can get free or deep-discounted gym memberships.
Cool! (Or so I thought.)
LIFETIME Fitness, which reported close to $2B (yes…B is for billions) in revenue in 2022, just informed me and its other members who are in the Medicare program:
"Medicare members receive a Limited Access Membership granting access to Life Time from Monday – Friday 9:30 a.m. to 3 p.m., Saturday 2 p.m. to close, and Sunday all open club hours."
Not sure what the bold is all about. I suppose it was an attempt to appear generous.
Furthermore, which is perhaps the funniest (or saddest) part of all is this:
"ARORA Aqua available all open hours with reservation."
That's basically water aerobics, a sport that's recommended for people with physical challenges. ARORA is LIFETIME's program targeted to the 65+ community.
As a working woman who loves going to the gym first thing in the morning, this is kinda ridiculous.
I am more than willing to limit my time at the gym to 6 hours a day, but I lift weights and do Pilates and cardio and have no desire to splash around in the pool.
The facts are pretty clear:  Most gym-goers prefer to exercise in the morning (between 5 AM and 9 AM) and evening (between 5 PM and 8 PM). On average, a gym member spends around one hour per visit at the gym.
More than a quarter of adults my age still work.
So, I'm not sure why LIFETIME has chosen these particular times for its Limited Access Membership.
I get it. Giving every member over 65 a choice of which six hours they want each day would be an administrative nightmare. I am no stranger to P&Ls and know that Medicare members are probably not LIFETIME's most profitable market segment.
But why would a brand that claims to be invested in the health and wellness of older adults adopt a policy that could be viewed as blatantly ageist and discriminatory?
My guess is they probably don't think their older members will speak up, question, and protest, which is sadly true of many of my peers. Some of them have even told me that "I could ruin things for everyone" (which is clearly not my intention).
People over 65 number 55 million in the U.S. alone (750 million in the world) and control $8 trillion in spending. 
Publishing this is a risk.
I could have my membership terminated, which is no worse for me than having to work out in the pool rather than on dry land at 6 or 7AM.
I could simply show up when I want to and let them arrest me for trespassing.
I could pay an incremental $80 a month (on top of what I already pay to Medicare) to have all-access hours, but this just feels icky. My understanding (based on information from a LIFETIME rep) was that they are getting $65 per person from United Healthcare.
I could just keep my mouth shut and be grateful for the six hours (even though I was a FULL PRICE member for years).
But after hitting "Publish," I'll feel a lot better that I am speaking out against ageist policies and am not afraid to use my words.
I've never been frightened of authority figures or big business. Why should I start now?
We still have clout and muscle. Don't forget that as you age!
P.S. I'll now be going back to publishing my usual musings about life, work, aging, and other random stuff (unless I see another brand that has questionable policies for people >65, of course!)