Route 66 Installment #50: The Costumes We Wear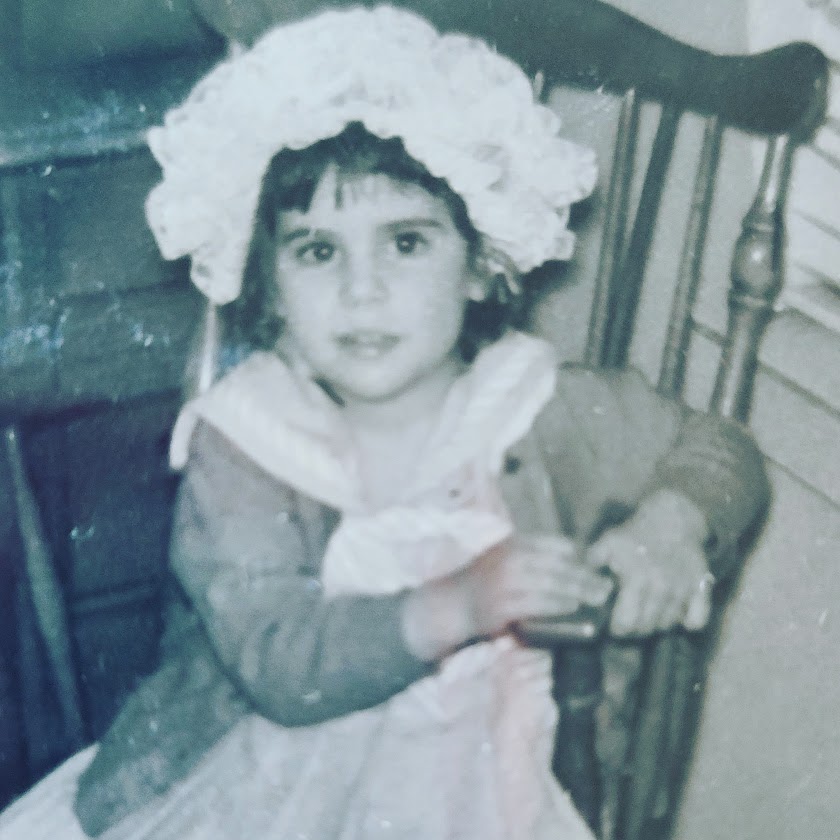 Reading Time:
3
minutes
I always loved playing dress-up.
It clearly started young. I'm not sure what was on my head or why I was wearing an apron in this photo, but it's definitely a unique look.
My loving and flamboyant Aunt Rose used to take her hat boxes down from the closet shelf and let me try them on.
When I got old enough to plan out my own Halloween costumes, I made some unusual choices.
I was a balloon salesperson one year. And a female spy another (see below).
Costumes are not just for Halloween!
Whenever we follow fashion trends (like I did with those hot pants and totally bizarre colonial garb in the 1970s), we are donning costumes. Fast-forward to the business suits of the 1980s, with their ridiculous shoulder pads and floppy bow ties. I'll spare you those photos.
But Halloween IS a unique time.
I'm not into year-round cosplay. However, once a year I create opportunities to pretend to be someone I'm not (not unlike the corporate attire of my financial services era).
Here are some of my adult Halloween faves.
I also participated in a couple of "dress-up" photo shoots over the past couple of years. I was a pin-up girl, a witch, and some sort of sexy ghoul. Thank you Raquel Waterman of Bobby Soxer Photography, her hair/make-up crew, Morissa and Katrina, and her "posing coach" Adrienne.
I put on my cowgirl boots and hat for a fun Western party this month too!
And, for Halloween 2022 I was a land mermaid because I don't know how to swim but I love the ocean and all its creatures.
What's the point of this narcissistic Halloween parade of pix?
Dressing up as someone other than who we are serves a purpose.
Starting in childhood, it can have some benefits. According to experts:
"Dressing up is a form of imaginative play — and imaginative play boosts problem-solving and self-regulation skills. Kids create situations and scenes and act out social events. They're able to test out new ideas and behaviors in a comfortable environment.

Dress-up encourages creative thinking and communication skills. It also helps kids practice language development and their social skills."
As we age, wearing costumes serves different, but equally important, purposes. It is a socially-acceptable way to dress how we want and not be judged. Scary attire connects us to the things that frighten or repel us.
Some adults love it so much that they do it year-round. See below for some cosplay facts.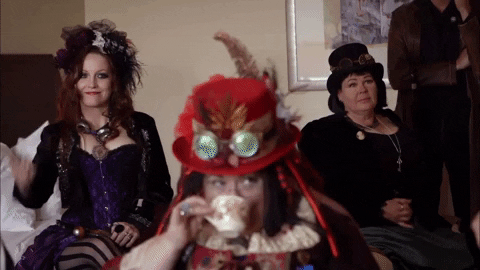 Whether we acknowledge it or not, we often wear costumes in our daily lives. Although you can certainly hop on a ZOOM these days in your boxers and a blazer, how you dress for work has an impact on both perception and productivity.
So, whether you're Freddy Krueger or a pole dancer this week…a hoodie- and tat-wearer at work…or a biker on weekends, think about what you put on your body and feet every day and how it reflects your inner workings and impacts your external perception.
What's in YOUR closet?
Try these on. More fun facts about dressing up:
Starting next week…the season of GRATITUDE!