Route 66 Installment #14: Clean Your Sh*t Up!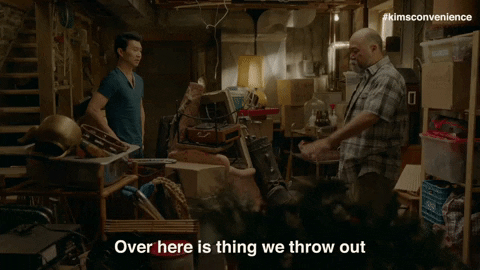 Reading Time:
4
minutes
Grab that metaphorical Swifter or Roomba! 
April is spring cleaning time!
As you "travel" along with me during my 66th year, you'll notice that I change my themes monthly, capturing how aging redefines each of them.
And now, here we are…talking about cleaning, cleansing, and watching out for messes, including those left behind when we die.
Rosebud and Other Childhood Memories
For those of you who never saw Citizen Kane (who are you anyway??!!), spoiler ahead.
Rosebud was the name of the sled Kane whispered on his deathbed. It represented simplicity, longing, and things lost as we're busy accumulating other "stuff."
It's especially timely and personal to me because I've spent the past few months cleaning out my late mother's house. I kept very little. And the experience prompted me to downsize my own closets and cabinets so that my own kids wouldn't have to fill multiple dumpsters one day.
What Should You Trash? What Must You Keep?
Over the next four weeks, I'll tackle different aspects of letting go and cleaning up — from people to things — in your life and at work.
Let's start with the obvious: The things that are in your cabinets, closets, drawers, and storage unit(s).
Ask yourself, "If I died suddenly today (sorry to be a buzz kill), what would people find? Why am I keeping these things?"
I kept very little from my family's house:
A childhood puppet. Yeah, I know. I've got an unhealthy relationship with marionettes and hand puppets. He doesn't take up much space and he only speaks when I allow him to.
Some hand-loomed potholders. (I used to sell them door-to-door; my first entrepreneurial venture.)
Random accessories owned by my parents. I even have a video of my mom talking about some of them.
Some vinyl albums. I plan to turn the covers into wall art.
My dad's original Mac, which may still have the B&W Asteroids on it.
Photos (which I'll digitize, so everyone in the family can view and enjoy them. In fact, taking pix of "stuff" is a great alternative to keeping the stuff itself.)
Typewritten short stories I wrote in my youth (on a manual typewriter!). I have retyped some of the shortest ones into Google Docs. I don't miss Wite-Out.
Books that meant something to me throughout my life — from the original Little Bear to random teen faves like the one below.
I still probably have way too many possessions, but I've been learning how to "travel light" over the past few years and find that it's really liberating. When I take trips, I'm usually able to fit my stuff into two carry-on bags and rarely miss anything I've left behind.
April is as good a month as any to:
Throw away, sell, or donate a bunch of things in your house, apartment, or office.
Ask for help if you have trouble letting go. (See my shout-out to professional organizers, below.)
Deal with any issues you may have with "letting go."
Evaluate how much space you really need to live and work in — and why.
Change your air and water filters, throw away mildewy sponges and shower curtains, and generally clean out your environment, so you're not breathing in dirty and toxic stuff. I'll be tackling the whole topic of cleaning up your body in a future post.
Talk to your aging parents about downsizing. Yeah…this is a tough one. Best of luck!
Try not to get overwhelmed. If you take small steps, you'll start to see the progress.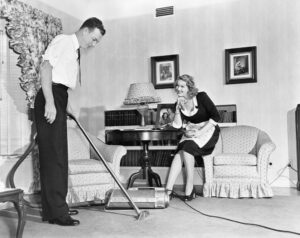 Remember, spring cleaning is not just for the spring.
---
File these away…