Route 66 Installment #7: >33 foods for the next 66 years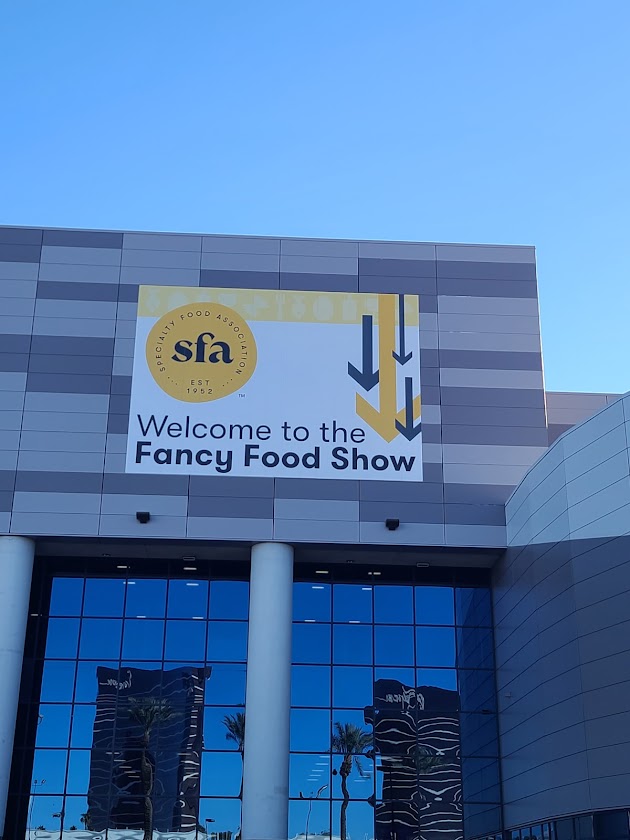 Reading Time:
5
minutes
Confession: I love new foods.
I also love conferences.
Of course, I'm also loving and living my best life for the next 66 years or so.
In my last post, I talked about passion for both things and experiences. So, imagine how elated I was to combine several passions by going to Vegas for the Fancy Food Show last weekend.
Food has been shown to have an impact on the aging process.
Another recent study shows that too much body fat ages the brain!
Although I could have easily gone wild and sampled everything on the show floor (especially in the chocolate aisle), I limited myself mostly to those products that were made with simple ingredients and were gluten-free, sugar-free (or made with organic sweeteners), and relatively low in calories and rich in taste.
You may have heard the expression "food made with love." I wasn't in the kitchen when the following products were created. But I chose to feature some of them based on both taste and the people who were in the booths, talking about them and generously giving out samples.
One exhibitor, who shall remain nameless, rudely grabbed a sample pack out of my hand while he was in the midst of a phone call and put it back in the booth. His food actually tasted pretty good. But it was clearly not made (or sampled) with love. Ick!
But let's get back to my passion for great food made by nice people.
Here are 33+ foods I sampled that may help me get through the next 66 years.
Imagine 2 pounds of zucchini in a 2.75-ounce bag! Okra or onions your jam? Root Chips makes those too.
Stryve: Biltong is this year's jerky. A whopping 16 grams of protein per serving…and sweetened with raisin juice rather than sugar.
Even more biltong! Kalahari Biltong is thinly sliced and has only 160 calories in an entire 2-ounce package.
Want your dried meat with a little oomph? Vacadillos air-dried beef is seasoned with jalapeno and chipotle.
Crispy Green makes fruits portable. I opted for Asian pear and mango, which you can't usually find at a convenience store on the road.
You may not come away from a date farm with a new love, but you'll find these amazing sweet snacks from Rancho Meladuco. (I often use dates in baking instead of sugar.)
Once a hippie…always a hippie. Perhaps that's why I loved Hippie Snacks. The exhibitors loved me so much they gave me three flavors to take home!
And, because I love things that go "crunch," I couldn't resist Nutchos almond chips.
Speaking of all things nutty, Pizootz makes flavor-infused peanuts.
And Buffalo Nuts taste like buffalo wings and don't require a wet nap afterward. The product comes from women-owned Truly Good Foods.
Rich Nuts Sprouted Cashews were created by a firefighter (Rich), who apparently can rescue you from unhealthy eating as well as burning buildings.
Sea ya soon! I didn't have to do a deep dive to discover Ocean's Halo Seaweed Snacks. The company donates a percentage of revenue to ocean conservation. And the package doesn't contain a plastic tray.
Salmon skin is now swimming upstream to salty snacks. I was hooked on these crispy critters from Irvins.
While I'm fishing around…Cambridge House smoked salmon tastes delicious and has a cool backstory. (I resisted the urge to type "fish tale.") What's salmon without cream cheese? How about a schmear of this plant-based cream cheese from Spero instead?
Pickled carrots from Rick's Picks have only 25 calories a serving. And carrots really DO prevent eyes from aging. Are carrot sticks too ho-hum for your tastes? How about cactus sticks from Nemi Snacks? Or, cactus chips from Tia Lupita. (Both taste amazing…and way safer than licking cactus). Prefer to drink your veggies or hide them in your food? Bilal's Destiny Easy Kale is the solution.
Cookies don't have to be evil. The Superfood Banana Bread Cookie has 7 grams of protein and 250 calories. Love + Chew is a great tagline too.
And Highkey mini chip cookies are bound to satisfy your sweet tooth.
Also among sweet things are the range of products from You Are Loved Foods. 
Another brand with a great name and great products is Big Picture Foods. 
Although I'll always feel a little conflicted about eating lamb, this variety from Aussie Select was pretty incredible.
Cheese will remain among my favorite foods for life, and I cruised around the American Cheese Society's aisles the way some women wander through a shopping mall.  Jasper Hill Farm has some great varieties.
The cheese samples from Cooleeney Farm were the next best thing to a visit to Ireland. The man at their booth gave me a complete tour of the flavors. But if you're avoiding dairy…
Violife is a great alternative.
Also in the dairy-free zone are these great nut milks from Elmhurst. Splash a little in your coffee or drink them straight
What's better than a peanut and jelly sandwich? How about St Dalfour fruit spread and…
BNutty Peanut Butter. comes in various flavors and was invented by two soccer moms.
You can make that healthier P&J on a Flacker. Way healthier than the preservative-packed white bread I grew up with!
Bacon is always thrilling, but Bakon from Thrilling Foods is even more so.
No time to chew? I'll simply add Clean Simple Eats protein powder to a smoothie.
I love baking and cooking at home. These flours and mixes from Hearthy Food will definitely make it into my cupboard.
Dressing up a salad? Although I've long been a fan of Primal Kitchen (especially their Green Goddess flavor), I'm now also in love with Queen of Hearts hemp dressing. This Oregon-based women-owned company is small but clearly mighty!
As a girl who grew up eating Cocoa Puffs and Quisp for breakfast, I would never have imagined that a cereal called Mush would appeal to me. The flavors (especially chocolate) are amazing and they are relatively low in calories.
Last but not least is Ivan.Bar. After my unfortunate experience with the "sample grabber," the woman at the next booth (who happened to be Ivan's wife) engaged me in conversation. She generously gave me samples and told me about the product's origins. She even insisted we pose for a selfie.
I think that's a fitting way to wrap up this post. You can make great food but if you don't have a genuine passion for your brand, if you can't tell its origin story, or you're just disinterested or rude, your product will leave a bad taste in people's mouths.
And food that's made with love is simply timeless!
Other loveable things about food, the event, and conferences in general…
The Winter Fancy Food Show organizers were warm, welcoming, and helpful.

This lowly blogger was treated as a valued member of the media and the press room was a wonderful place to hang out and meet other writers and content producers.

Live events are here to stay. Here are 2022 trade show predictions and trends.
Foods to be avoided if you want to live a long and healthy life.
Coming up next…love your planet. (My visit to GreenBiz)