Lesson #1: Trust Your Gut. Especially With People
Reading Time:
3
minutes
"You must train your intuition – you must trust the small voice inside you which tells you exactly what to say, what to decide." –Ingrid Bergman
Go Ingrid!
To kick off theONswitch's 18th birthday, I compiled a list of the nine key lessons I learned over that time period. It was a great exercise. 
I reflected on the people, the experiences, and the clients that contributed to our surviving and thriving for close to 20 years. 
Why 18? 
That number is significant in many ways. 
It's the numerical value of the Hebrew word "chai" which means "life." Work is not my whole life but it often creates relationships, skills, and moments that give more meaning to life.
When people hit 18, they typically leave high school, have access to wheels, and embark on the next phase of adulthood. Here's a summary of some of the #18 milestones. 
An auspicious number in China, it correlates with prosperity. 
Last but not least…it's not a typical business birthday to point out. And, we all know that theONswitch prides itself on being slightly different from other marketing companies Quirkiness with a purpose is one of our many mantras.
But now back to the first (and perhaps most important) lesson…
Knowing who to trust — as team members, clients, advisors, and suppliers — is critically important. When you start to scale a small business, your team can make or break it.
I've made some great picks and some doozies of mistakes (or learning experiences as we like to call them.) In the early days of a business, you don't know what you don't know. Coming from a big brand company, I was cockier than I should have been at times.  I was sometimes overly eager to fill a position or take on a new challenge. I believe what people tell me and am still slightly shocked and dismayed when people lie, withhold information, or take advantage of generosity. 
Optimism is not in itself a bad trait. But…
Marketers and PR people are great at storytelling. That's both an asset and a curse. People can say "yes" to your face and then stab you in the back. Every time I made a wrong call, I ignored that little voice in my head that screamed "Run away…quit this gig…don't trust this person."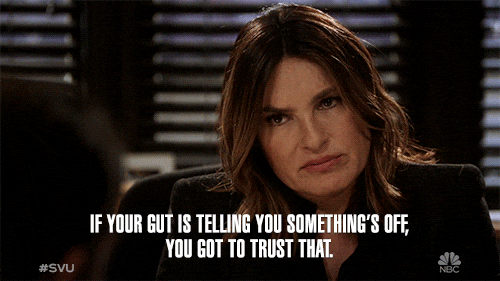 That said, taking a chance on truly good and talented people pays off for years to come (at least 18)! 
As we were planning this birthday "celebration," I thought about all the great professionals who took a chance on me and the business, helped it scale and evolve, and became both colleagues and friends.
So, over the next 18 I will continue to put my faith in others, but pay close attention to the red (and even light pink) flags that appear.
Good gut can lead to growth. And bad gut should never be ignored.