On the Road Again. What I Learned & 5 "Hesolutions"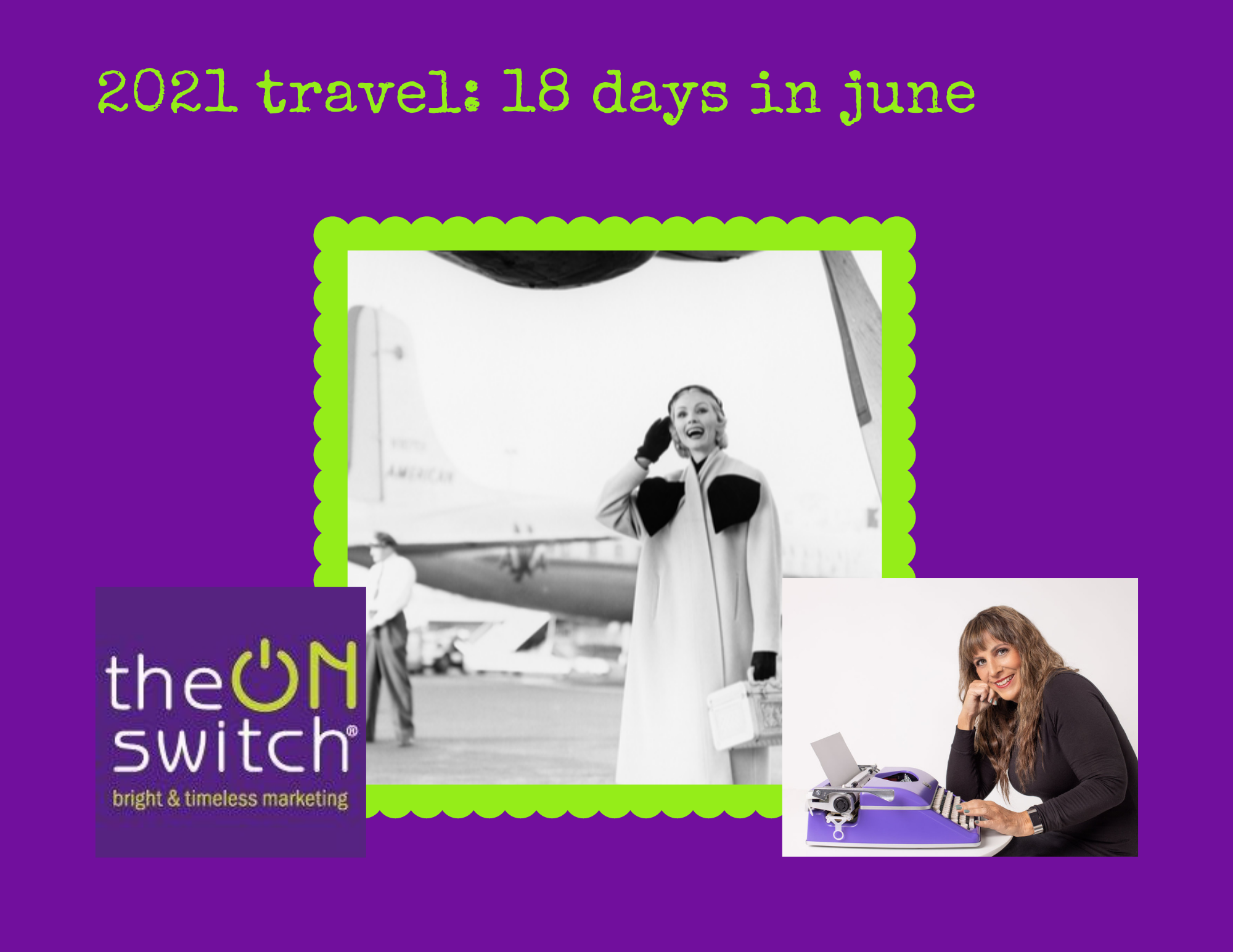 Reading Time:
4
minutes
2020 was supposed to be my big travel (work and leisure) year.
And we all know how that turned out! I had gone on a couple of short journeys last year (tested and masked, of course), but I was just able to embark on my first REAL trip (vaxxed and masked) since the pandemic began.
Throwing my daughter a bridal shower in Old Town Virginia (which was planned remotely…I hadn't even seen the venue). I was allowed to join in to some of the pre-shower festivities, including a pre-shower pizza-and-spiked-seltzer game night and a wedding dress fitting. I guess my "cool mom" status is still up-to-date.
Spending a couple of glorious days with my other daughter and grandkids and tagging along on swim and music class. I wrote two books on Canva with the kiddos. (I'm getting them started early on digital content generation.)
Working, working, working from a hotel room, my daughter's house, and East Hampton.
Writing, writing, writing for work, and my new passion project — a real-deal book about aging with oomph.
ZOOMing, ZOOMing, ZOOMing with my team and with SOS, where I learned how to fine-tune my leadership style to balance power and popularity — a tough challenge for many women of the old-school working world. I gave a media interview about aging with oomph (see above).
Eating some amazing food along the way. My "bagel guy" succumbed to COVID, which is super sad. He was a special person and I don't know that anyone will ever match his flagels with lox. Loss and change are inevitable. I realize that every time I visit the East End, where I spent much of my childhood summers. I realized how much I missed fresh seafood and consumed more crabs, clams, and shrimp than I have in years. And that lobster roll from Bostwick's was truly divine.
Catching up with friends I haven't seen in what seems like forever. One of my oldest friends (tenure, not age) came out to East Hampton for a couple of days for an impromptu "artists' retreat," during which I read his e-book and dissertation outline and he read all of my stuff. I may make some version of that an annual mini-event. I saw my friends Sharon and  Mohna and visited the re-built Sag Harbor Cinema.
I made some new "friends" and had lively and provocative convos at the bar at the East Hampton Grill, which is like the Cheers of the Hamptons if you go early enough.
I discovered that time zone differences can work to our advantage. While I was east, I found that I had an extra three hours every day and now that my body is adjusting, I'm getting up at 4AM every day, which gives me more time to be productive and connect with my EST colleagues, clients, and friends. Plus, I get to experience epic sunrises over the mountains.
In short, it was the perfect blend of family time, work time, and social time.
Here's my mini-travelog. It's like today's version of "home movies" but you don't have to sit and be bored for hours, pretending you're actually interested.
What the Hell is a Hesolution?
When I got back, in addition to doing laundry and adjusting my circadian sleep rhythm, I made some "Hesolutions" (Half-Year Resolutions) for the remainder of 2021. Independence Day weekend is as good a time as any to be free and think about what needs to change in our lives.
I will:
Travel as much as possible because new environs always give me a new perspective. New air inspires my business energy and writing.
Stay close to family and friends. They are precious. I'm doing a pretty good job so far this year avoiding toxic people. Progress!
Talk to strangers — and not just on social media. You never know who you'll meet or what you'll learn from them.
Experiment. New food, new places, even a weird new way to stay dry in the rain (see my Travelog, below).
As the fog of the pandemic slowly lifts, remember the passions and habits that helped you get through it, and shed those that no longer work for you.
If you don't like to navigate airports or take long drives, you can "travel" every day of your life in your own environment and in the world around you.
And think about what YOU want to accomplish in the six months that lie ahead — taking action one day at a time!
Some fun related tidbits: