The COVIDdozen: 12 Learnings in 12 Months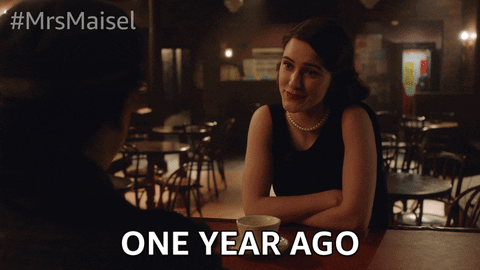 Reading Time:
3
minutes
What a difference a year makes!
As we approach the second year of the COVID-19 pandemic, I reflect back on the first two months of 2020.
I celebrated my birthday with my daughters and the babies.  I shopped for Mother of the Bride dresses and drank a martini at The Palm in Virginia. I won a Killer Content Award at the (in-person) B2BMX conference and drove to Las Vegas for what was to be my last major trade show for a while.  I ate dinner at a local Phoenix wine bar on March 17th, the night all the restaurants closed down for the long haul.
And then, we were plunged into the pandemic world. 
I'm a transformer, recession survivor, and lemonade maker. I knew almost immediately that I needed to find new ways to have fun, keep my business afloat, stay healthy (and keep those around me safe too) and make the best of a situation that pretty much sucked.
As a parent and grandparent, I've come to realize that the first year of life is a huge one. Children change from crying, pooping, puking little beings to people who can walk, communicate, and hold their own bottles.
Let's learn from them.
Here we are, 12 months into the pandemic. How have WE grown?
Now is a good time to look back (quickly, because you really need to focus on the future!). Think about what skills you've developed over the past year, how these 12 months changed you and your family/friends, and what you plan to do now that we all know that things will never really return to "normal."
I met so many people and had so many experiences this past year that might not have happened in the pre-COVID world. I used my (very boring at times) quarantine hours to get in shape, re-boot my business, and knit, bake, do a couple of jigsaw puzzles, and read. I learned new tech skills and wrote a lot. I cleaned out my junk drawer. I ZOOM dated and met a truly great guy.
I'm looking forward to the next 12. 
This year has been intensely difficult. But at some point we need to put our energy into the future.
Let's  focus on what we CAN do and not on the things we used to do and miss terribly. For example, I may never again listen to the English Beat at the jam-packed Stephen Talkhouse or wander into a favorite restaurant without a mask. Travel has become less spontaneous, but after my second vaccine, I'll cautiously hit the road when that's safe.
I know lots of people are still struggling and I'm not saying that any of this is easy. But the shock and inertia have to end at some point.
If you and your family/friends are still healthy, be grateful.
If you have a job, be grateful.
If you have a skill or passion that you can somehow pursue in the virtual world, be grateful.
I took one last glance in my "rearview mirror" and listed 12 things that I learned and did during the past 12 months and suggest you do the same.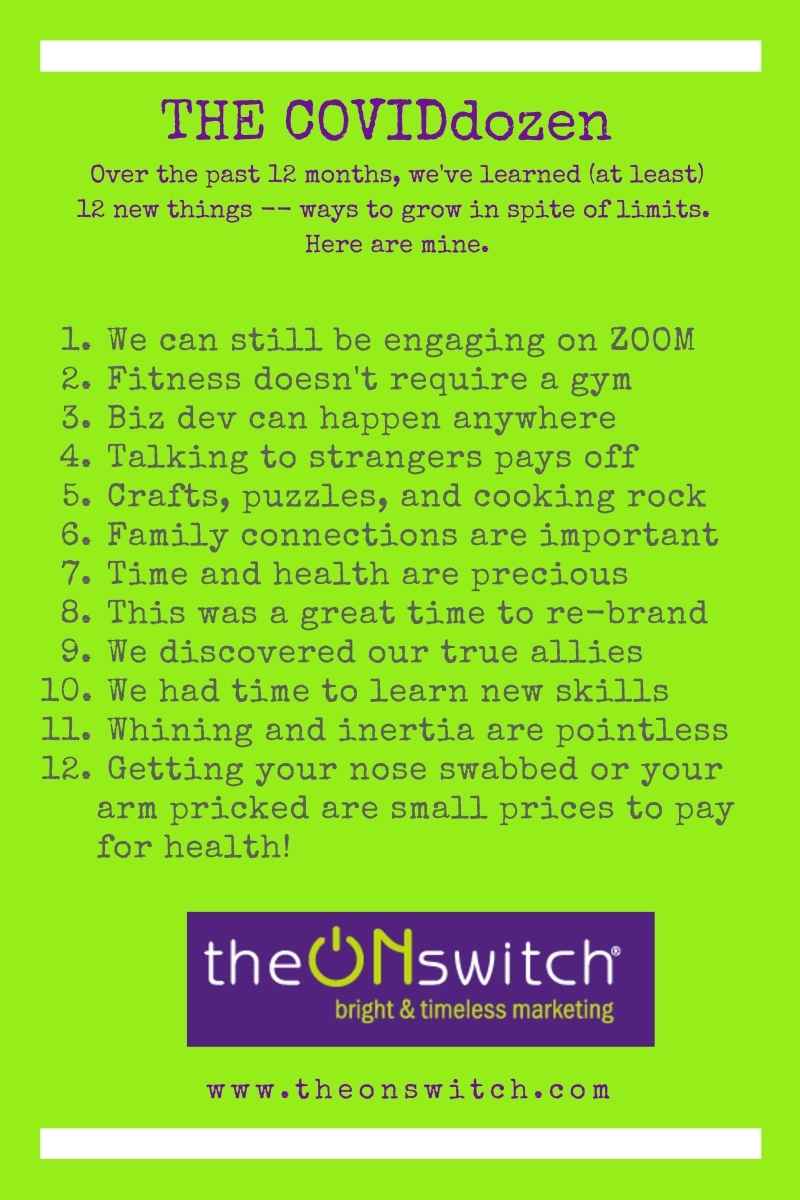 If you can't come up with 12, aim for 6.
And then think about the next 12. Like that one-year-old baby, you may still cry, wet yourself, and fall on your face. But you have years ahead of you. You survived this far.
Make every one of the next 12 counts!
Want a FREE guide to creating your own "COVIDdozen" checklist? Get in touch and I'll send it to you!
More semi-uplifting pandemic stuff: