GRATITUDE #3: Society of Saleswomen (The Grateful 40)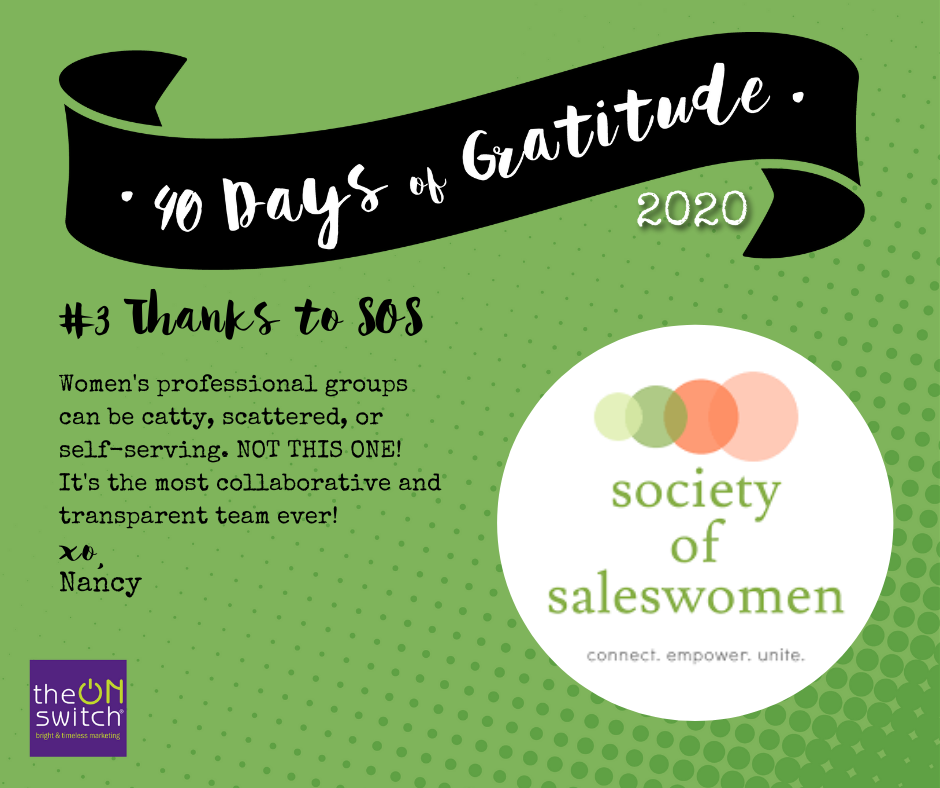 Reading Time:
2
minutes
Professional women's organizations can be tricky.
I've belonged to them, run them, and thought about joining some of them. Although co-ed groups can have their challenges too, women's groups are unique.
We end up getting to know each other quickly on a personal and business level, and that can give rise to gossip, cliques, and other nasty things that women are often (rightfully) called out for. I detailed some of that in my book.
But not the Society of Saleswomen. They are a whole new and wonderful breed.
I left New York three years ago, and building a new professional network has sometimes been challenging — especially amidst a pandemic. As an independent contractor, I miss the sense of community and drive towards a common goal.
When Christine Rogers suggested over coffee one afternoon in Scottsdale that I join SOS, I was skeptical. 
Although every day of my life involves selling of some kind, I've never had sales in my title. Negotiation, persuasion, rejection, and winning are all business life elements, so I thought I'd give it a whirl.
The group has proven to be inclusive, collaborative, fun, and uplifting. Their ZOOM calls are always well-run (and never more than an hour at most), and I always meet great people and get new perspectives on work and life. The team is diverse and results-oriented. The SOS leadership models behavior that all women should adopt in their workplaces.
Lessons I've learned from SOS in 2020
Cross-generational and cross-skill collaboration is not only possible — it results in great things!
Although I'm not generally a joiner, the right group can be an incredible support system. When I was asked to engage with NAWBO by Rosaria Cain recently, I put my bias aside.
Sales leadership careers are a great place for women these days. They offer great earning potential, flexibility, and the chance to deal with some amazing people. Plus, those ZOOM calls should serve as a model for all virtual gatherings…fast-paced, collaborative, well-organized, and memorable!
Intrigued?  Check out SOS's "Manvember" events.
And a huge shout-out of gratitude to Jessica, Cindy, and Meeshie and Melissa. Hope to meet you IRL one day soon!