My COVIDiary Installment 2: The New Intimacy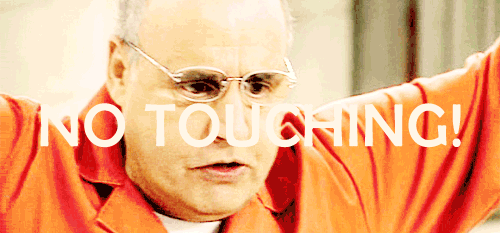 Reading Time:
2
minutes
(Don't) Touch Me Babe
Alas, that's the new mantra in this weird and remote pandemic world. Handshakes, hugs, and kisses are all off-limits for the time being.
As a single digital nomad entrepreneur, the lack of human face-to-face connection can be lonely and disconcerting at times. Full-time freelancers don't have communities to Zoom with every morning, so keeping connections alive becomes even more important.
This morning, I sent out my monthly newsletter and was thrilled that many friends and colleagues reached out to schedule calls and Zoom meetings. I set a goal for myself to have at least three phone calls a day and one online group activity each week. That sure beats talking to the DoorDash guy, and will have more long-term benefit.
As soon as this all blows over, lots of us are going to need many hugs and kisses. In the interim, you should:
Make time to talk to colleagues and loved ones as often as you can — especially via video. When you're on camera, remember to smile. It not only cheers the person/people you're talking to, but it will also boost your own mood.
Organize and participate. Many professionals have set up their own online groups to foster connection and after-hours virtual parties and book clubs have become a thing. Of course, the term "quarantini" already has its own hashtag and recipes abound. Instagram just launched a co-watching feature.
Connect and communicate with new people on LinkedIn and Facebook and show people you're engaged by liking, sharing, and commenting on their posts.
Become your own lover. Self-care is super-important right now. At-home workouts abound, and these tips can be helpful in establishing some sense of normalcy. Learning a new skill or volunteering (with gloves and a mask on, of course) can boost your mood.
In the interim, turn up the volume and enjoy this oldie but goodie and feel free to comment with your own fave intimacy tunes.