5 Days of Food & Tech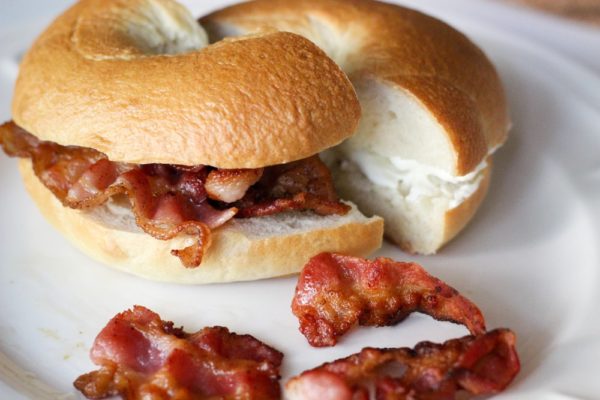 Reading Time:
3
minutes
Robots, bacon, POS terminals, new straws, plant protein, and apps everywhere.
Oh, and cannabis too.
That pretty much summarizes my recent visits to the National Restaurant Association Show in Chicago and the Collision Conference in Toronto — two huge and very different professional gatherings.
The Restaurant Show is 100 years old and still pretty fresh. The size of the technology area has grown dramatically over the past five years. Robot options, POS systems, apps, and plant-based foods have too.
But meat and bagels are timeless, as is good old fashioned hospitality and service. The industry is generally warm and friendly and the show organizers treat the media as valued guests, giving us a sneak preview of innovations and serving breakfast on the first day. From brand giants to mom-and-pop start-ups, companies realize that how they serve guests is a big part of the food experience. My observations:
Everything Old is New Again
The Matzo Project is making that once-a-year unleavened bread a year-round fave with chips and chocolate treats. And, to quote the 1970's Levy's Rye Bread campaign, "You don't have to be Jewish." United Brands whipped-up a cool new brand campaign for their Whip-it! dispensers (invented in the 1940's), complete with food tastings, an Instagram opp, and great swag (retro bags in two different sizes).
The Robots are Coming. Actually, They're Here.
Some have digital faces and moving arms and others are simply designed to silently assist servers. Machines are making donuts and burgers. In fact, Flippy is also now cooking up nuggets and tater tots at Dodger Stadium. Sally the Salad Robot is all grown up and has expanded her repertoire to specialty bowls.
The Great American Suck-Off: Who Has the Best Non-Plastic Straw?
Some are customizable and made of paper (like the wide variety from Aardvark) and others are made of hay (yup…you read that right). Econscience made their whole booth from earth-friendly oversized straws. I plan to test the samples I got to see which ones live up to their promise of long life, good taste, and no soggy factor.
Beyond the Beyond Meat Burger. It's Impossible!
The plant-based Impossible Slider made its debut at White Castle last year and Impossible chorizo was served at this year's media breakfast. Beyond Meat is being valued like a tech company. I still have a soft spot for Dr. Praegers, an alternative to meat for 20+ years. They said the renewed interest in meat alternatives has been great for their company too.
Other healthy options at the show included edible spoons, a non-dairy sugar-free plant-based frozen dessert called Reveri that tasted pretty great, flax-rich muffins from Flax 4 Life, and an amazing sugar-free barbeque sauce from Lillie's, that I bet would be yummy with a plant-based burger. Pepsi (which I have always thought is more than OK) has a terrific array of fizzy waters. I confess to splurging on a Diet Pepsi every now and then, however. At the show, Pepsi also announced its new Digital Lab. I'm always a fan of restaurant tech!
Speaking of healthy, food, and tech…CertiStar's patent-pending MenuStar™ restaurant software allows restaurants to identify food allergy threats for customers with just one three-second search.
But Sometimes You Just HAVE to Eat Fat & Carbs 
H&H Bagels makes me nostalgic for life in Manhattan, but the wonderful news is that they've expanded nationally. Show-goers lined up to get their Nathan's Famous Frankfurters. And the meat samples from Big Fork Brands and family-owned Vanee Foods (established 1950) were truly memorable.
Feeding My Brain and Not Just My Body
After the Restaurant Show, I headed up to the Collision Conference where I met lots of founders, heard Seth Rogan talk about his new cannabis brand (Houseplant), learned about the vision for Toronto from Trudeau himself, and sat through a very entertaining presentation by the founder of Giphy (who seemed sort of amazed himself that GIFs have become so wildly popular).
Although some of the companies that showcased at the start-up displays and pitch competition had purposes related to health and wellness, sustainability, and other noble causes, many of them were "trying to build a better mousetrap" apps and I couldn't help but ask myself, "Is the inventor solving a REAL problem or need or just creating something to scale and sell?"
Perhaps because I had food, plants health, and longevity on the brain, some of the memorable innovations at Collision were:
What both shows made me realize is that despite the tech surge, large-scale face-to-face communication (and the swag and socializing that goes along with it) is still alive and well. And bacon (no matter what it's made of) is timeless.