10,000+ Lakes…11 Months…7 Reasons MN Wasn't For Me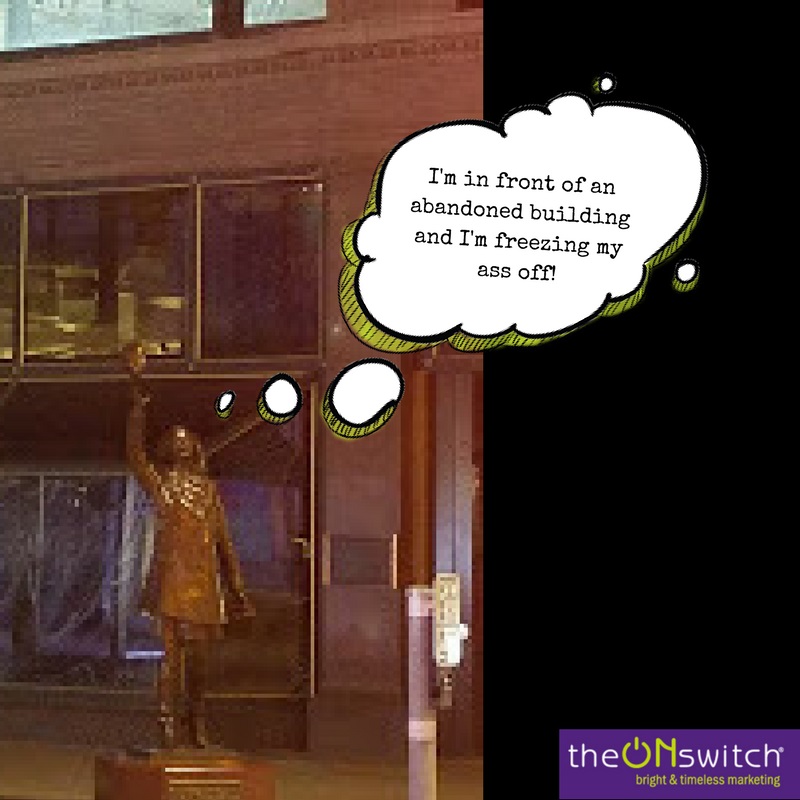 Reading Time:
4
minutes
Damn you Mary Richards! You Led Me Astray!
I grew up watching the Mary Tyler Moore Show, so I just assumed that I would be welcomed into the "newsroom" (or, in my case, a consulting gig and all-new city). I had my "Lou" but I discovered early on that I was not Mary (who grew up in Minnesota and was, therefore, an insider). I was Rhoda — the quintessential New Yorker. Outspoken, creative and worldly, I was a mis-fit from the beginning.
At first, I thought it was just my style, but my transplant friends told me they cried for their first three years until they made friends.
So, how does one deal with a geographic "detour?" You find yourself in a place that's just not right for you. Moving sucks. We all know that. But every wrong turn can still take you to a better destination…it just takes a little longer. And the key is that if it doesn't really feel right, pack up and move on.
Things I learned during those months:
I am resilient. I can keep myself entertained in the absence of a big social circle. If you're not comfortable being alone, practice
Downsizing (and downsizing again) makes the next move much easier.
You have to be selective in your choices of activities and tribes. More about that in the upcoming weeks.
Make the best of it while you're there. Alumni associations, women's groups, and Facebook can all be good ways to meet new people.
WeWork is a special place. Once they opened, I immediately connected with two invaluable business colleagues.
Remaining connected with other places is important if you don't like where you are. I traveled 32 times over the course of the year. Not just escaping…exploring.
New York is great, but it's not the only place on earth. Getting out of my home city was a huge step. I now have the courage to live anywhere. Do not let peer pressure or fear keep you stuck.
Most important, once you're gone, NEVER bemoan the fact that you "wasted time." 
The reasons I disliked Minneapolis have very little to do with the cold. Here are a few impressions:
The people who grow up there rarely leave. They list their high schools on Facebook and stay in-state for college. If you plan to relocate, choose a place where people are open to making new friends.
Except for big brand companies (like Target and Best Buy), businesses can be somewhat inbred. They market to people in-state and don't know about their competition in other regions.
I think carbs are in the air. Although Minneapolis is heralded as a healthy city, getting the simplest of things — like salads or almond milk — is often difficult. The State Fair is filled with fried and cheese-filled options and much cuisine involves tots (as in tater) and brats (as in meat). I gained close to 25 pounds and even walking through the Skyway like a gerbil and going to Life Time a couple of times a week could not undo the damage.
The "Minnesota Nice" thing means passive-aggressive and people are generally proud of it. "We'll give you directions anywhere except to our homes!" many brag. "It's our cultural heritage!" they rationalize. My Nana Molly came from Russia. I don't eat borscht. I'm sorry…I won't buy that one!
The downtown is a ghost town. While I was there, Macy's went under and although the city is trying to revitalize the area, it's slow going. Someone was shot a block away from my building. It's a concealed carry state, which was a new concept to me. Thankfully New Yorkers don't usually pack heat when they go out on a Saturday night.
The infrastructure is flawed. I wonder what's going to happen during the Super Bowl. The Light Rail was often down while I was there. I once reported a man lying on the floor of the train in a drug/alcohol stupor with his hand down his pants and, when I reported it, I was told that I was speaking to the wrong department.
"You didn't try hard enough!" is what Minnesotans tell outsiders when they complain about the difficulty assimilating. A thread on City Pages resulted in residents telling outsiders it was all their fault — 100+ comments in total. I understand that a "committee" has even been formed to work on the problem. If you disagree with anything I wrote here, please feel free to comment. But please don't blame us.
Trust me…I tried REALLY hard. I joined business groups and talked to strangers when I went out to cultural events. I made a very small handful of amazing friends (mostly transplants) who I keep in touch with from Arizona. I still belong to Life Time and love to shop at Target and Best Buy (all Minnesota-based).
But I did not get a warm and tearful hug from the newsroom when I left. I simply ate my last Pizza Luce (gluten-free) pizza slices and got on a plane. Lou left too.
To those of you who love Minnesota — please feel free to continue to love it. It's just not for everyone…despite the 10,000 lakes and the Mall of America.
The only hat I'll be throwing in the air is a cowboy hat in my new home. Yee ha!
You can't always turn the world on with your smile. Better to just keep heading west sometimes.
Some highlights of my detour:
My new buddies Nicki, Emily, Elizabeth, Dan, and Amanda. Plus Aimee, an incredible professional organizer who helped me pack-up and move-out
WeWork (which opened just as I was leaving), the U. of Michigan Club, and Ellevate — all good places to meet good people
The aforementioned Pizza Luce
Convenience of Twins, Vikings, and Timberwolves games
The "baking industry" heritage. I visited the Mill City Museum and got to ride in a grain elevator and take a selfie with a giant Pillsbury Dough Boy. General Foods, Land O' Lakes, and other dough-related companies have headquarters in MN.
Great airport
Amazing Life Time at Target Center. Never crowded and loved my trainer, Meghan.
The fact that both The English Beat and Jerry Seinfeld came to town. The Cabooze is just the kind of dive-y live music venue I love.
See…I came up with 8 positives too!
Coming Up Next: Cast-On and Meet-Up