Dressing Down (Fun #2)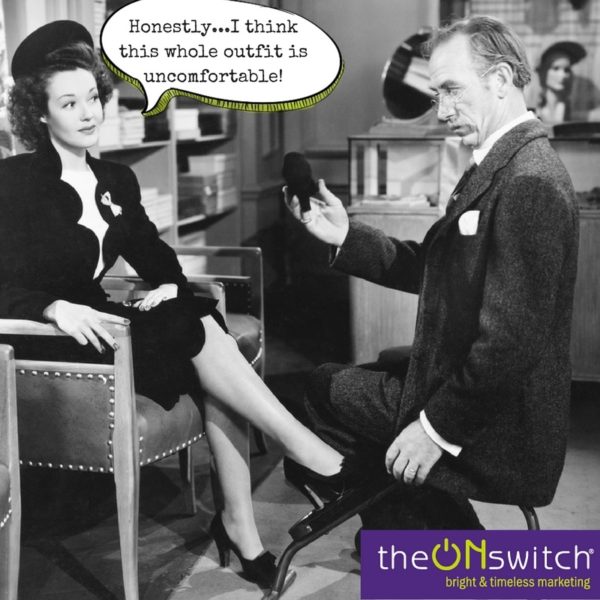 We've become a sporty (and casual) culture.
Our first installment of our August "Fun Then & Now" series featured the transformation of the Summer Olympics. What better topic today than the evolution of sneakers, the sudden surge of athletic wear as street wear, and the evolution of casual business attire. Even if you never set foot in a gym or on a track, you probably own at least one pair of sweats and sneakers.
The active wear market comprises more than $91 billion in sales (tripling from just a few years before)! Sneakers (Keds, of course!), were introduced to the market in 1892 (although people wore rubber-soled shoes called plimsolls the century prior — and they had no right foot or left foot). Athletes got into the sneaker endorsement biz in 1921 with the Chuck Taylor Converse All Star, and the simple shoe began its journey down the fashion runway.
Back 60 years ago, the definition of casual was still somewhat dressy. We did find a groovy hoodie, circa 1956 on this site, along with pedal pushers and cardigan sweaters.
Business casual entered the workplace starting with the Aloha Shirt and Casual Fridays and then Levi's launched a campaign to loosen-up dress codes in 1992.
Fast forward to 2016…every major brand is now in the athletic wear business and the Wall Street Journal even ran an article recently titled, "Are You Going to the Gym or Do You Just Dress That Way?" Athleisure (as the fashion category is called) represents big business, but some folks are distressed at the lack of formality at the theater and places of worship.
Are office dress codes dead? Looks that we're heading that way. A great piece in the New York Times will give most millennials an OMG moment and UBS bank was publicly shamed for having these rules a mere five years ago.
This Forbes article even goes so far as to say that casual clothing has an impact on work productivity.  And one study claims that if  you put on a doctor's coat, you'll score better on tests.
Frankly, I like the billionaire theory…that wearing the same type of clothes every day — like Mark Zuckerberg's grey wardrobe — frees up brain space. And I sure as hell don't miss the big shoulder pads, floppy bow ties, and nude stockings of the 1980's.
Do you think the workplace has gotten too casual? What do you consider a "fail" when interviewing a job candidate. Comments welcome!
(For more installments in the "Business of Fun" series, visit our blog.)