Body & Soul Food (Part 3)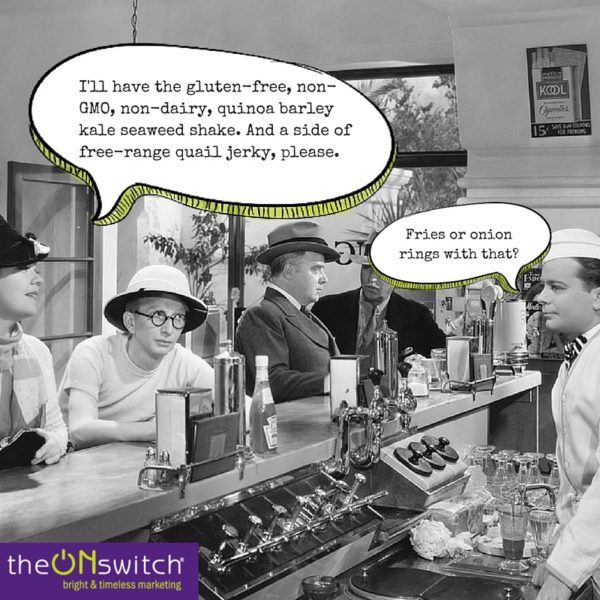 Reading Time:
4
minutes
As we wrap-up our recap of the Fancy Food Show 2016…
we realize that we barely scratched the surface of the 180,000 products and 2,550 exhibitors. So far, we focused on high-level trends and women-owned brands in our summaries. This last post deals with a veritable trending tsunami — the wave of "healthy" and "natural" foods.
As the Boomer population ages and Millennials become more aware of what they are putting into their bodies, people are turning over their snacks and packaged foods to study ingredients. (If you want to get REALLY paranoid about what you're eating, read this book.)
Americans  seem to be watching what goes into their mouths and stomachs. The number of Americans with "poor diets" is dropping, according to this article in the New York Times.
From olive oil to snake oil (metaphorically), food manufacturers are jumping on the healthy eating bandwagon…with mixed results. Creating a food that tastes good AND is truly good for you AND has a decent shelf life (without preservatives) is the ultimate culinary art.
The products we saw and sampled at the show all claimed to be healthier and free of one thing or another. We're not claiming that if you eat them all you'll be instantly thinner or stronger. But trading your Cheetos for some quinoa is probably a safe bet. (And if you still don't really get what non-GMO means, this is a great primer. Bet you'll start looking for that label now!)
Consumers' tastes continue to evolve and the industry evolves along with it.  We're already hungering to see what trends emerge in 2017!