Making Beautiful Music Together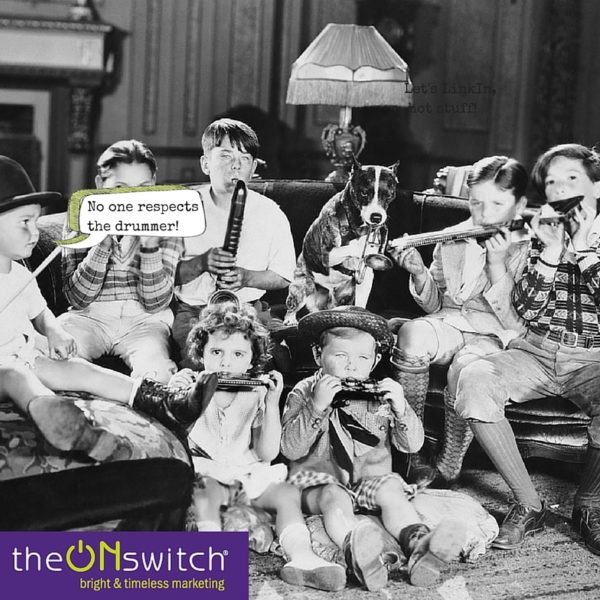 I went to the Monkees 50th reunion concert last night. 
Davy Jones is gone. And Michael Nesmith was dialed-in via Skype for one song.  (Random fact: Nesmith's  mother, a typist,  invented Liquid Paper. I came across that fact one day when researching women entrepreneurs and inventors for sheBOOM.)
So, although only 50% of the Monkees appeared on stage, I realized a few things about bands and how the dynamic is very similar to business work teams.
Someone always has to lead. And roadies are extremely important.
The drummer keeps the beat, but is often ignored. He/she sits at the back of the stage.
Solid working relationships transcend time, failure, and age. Watching Micky Dolenz and Peter Tork together was fascinating — almost touching.  Tork is 74 and Dolenz is 71. They were completely in sync throughout the night.
When you lose someone, you just need to re-invent and move on. Remembering, honoring, and paying tribute (see #7) is important.
Sometimes you need to bring in a new generation and perspective in order to evolve. The Monkees' latest album got decent reviews from the New York Times and includes songs from Weezer and Fountains of Wayne. In fact, Adam Schlesinger, its producer, appeared on stage last night.
Help from family members can be valuable. Dolenz' sister Coco played the tambourine. Her day job seems to be serving as a minister and selling things on Etsy. Having a few jobs to fall back on isn't a bad thing…music isn't always a steady gig.
Technology is changing everything. Davy was brought "back to life" through music mixing magic and video. Nesmith "visited" the stage. And, of course, Dolenz has his own blog.  When used properly, digital media can connect people.
One of my favorite movies of all time is Almost Famous, in which a young journalist chronicles the gradual implosion of a band as they achieve fame. Bands often fall apart. (Here are the messiest band break-ups of all time.) As in many other relationships (work and otherwise), money, women, differences of creative opinion, and changing consumer tastes accelerate their demise.
I think about those business collaborators (my band mates, as it were) who I've known for years.  We may play out of tune at times. Our merch table has sometimes been unmanned or unsold. But I'm determined to continue to show up and take the stage with other professionals long into my 70's and beyond. And maybe I'll even have another hit or two.
Call me a daydream believer.