What Would Lew Do? (A Father's Day Tribute)
Reading Time:
3
minutes
This post was originally published in June 2016. Like other content, it seems to be timeless. I tweaked and "upcycled" it. Five years later, it still rings true.
Ask most entrepreneurs and successful women and they'll tell you…
their fathers were an influence — positive or negative or some combination — on their leadership styles, confidence levels, and world views.
Lewis (aka Lew) was my dad. He died way too young (64) and influenced my life as well as the lives of hundreds of women. An OBGYN, he brought new life into the world. Every woman he cared for, taught as a professor, and delivered was touched by his wisdom, skills, and dry wit. When he died, the stage at his memorial tribute was filled with his students, nurses, and colleagues. And every woman spoke about his patience, his caring, his humor, and his medical genius. (He was one of the pioneers of fetal ultrasound.)
But what did I learn from him? I opted not to follow in his professional footsteps, but I carry on so many of his teachings, including:
Fearlessness.
Ethics, compassion, humility, generosity, and forgiveness.
Humor.
Belief in my writing skills. (He sent one of my pieces to the New Yorker when I was 10.)
Ability to handle rejection. (The magazine declined my poem.)
Rational thinking in times of crisis and tears. (I was eventually published here!)
Appreciation of culture and food. (We went to Broadway shows and he collected classic books. He delighted in finding new restaurants and cuisines.)
Problem-solving (He fueled my jigsaw puzzle addiction by buying me tough ones.)
Intellectual curiosity.
Love of life, travel, adventure and new experiences.
His death hit me hard, as it was sudden and early. But that taught me a valuable lesson too — that life is short and unpredictable and that great fathers live on in the minds, hearts, and gene pool of the women whose lives they touched.
Whenever I'm faced with a difficult business or personal situation, I find myself thinking, "What would Lew do?" and I'm able to carry on. His profession revolved around making fast decisions in times of crisis — a valuable skill to have.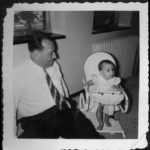 He was a true "outlier," going to college at 16 and the Navy at 17 and funding his entire medical education. (His own father (pictured at left)) was a liquor salesman who had a series of "questionable" professions, including a gig as "Big Bill" Dwyer's Business Manager. He was very dapper though, and his sense of style seems to have been a family legacy. He also made us laugh with a weird trick involving a dinner napkin. Every father and grandfather brings something to the table. Another lesson: You can overcome the odds and grow up to do unexpected and wonderful things.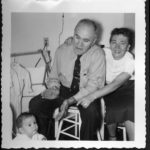 My other grandfather (Abe — pictured at right) died when I was pretty young. He owned a poultry market. I remember him as having a kind face and we always ate fresh chicken at his house.
I probably would not have had the confidence to reach the C-level in business, start my own venture, or become a published writer and speaker if not for Lewis Shenker, MD. I chose to keep his last name throughout my life. I was the first Shenker woman to finish college and grad school.
On Fathers Day 2016 (when this post originally appeared), I took my younger daughter (who is named after him) to his favorite restaurant (The Palm). He was there in spirit.
Speaking of spirit, I toast him every year on Father's Day. He used to drink Wild Turkey or gimlets. I'm more of a martini, marg, or spiked seltzer chick but, like him, can hold my booze and never get sloppy or stupid when I drink.
On Father's Day please take a few moments to think about the fathers and grandfathers who influenced your life, your career choices, and your own children.  Share your own stories and memories and focus on the good.
Here's to you, Lew!