"It's Hard!" My Week in Review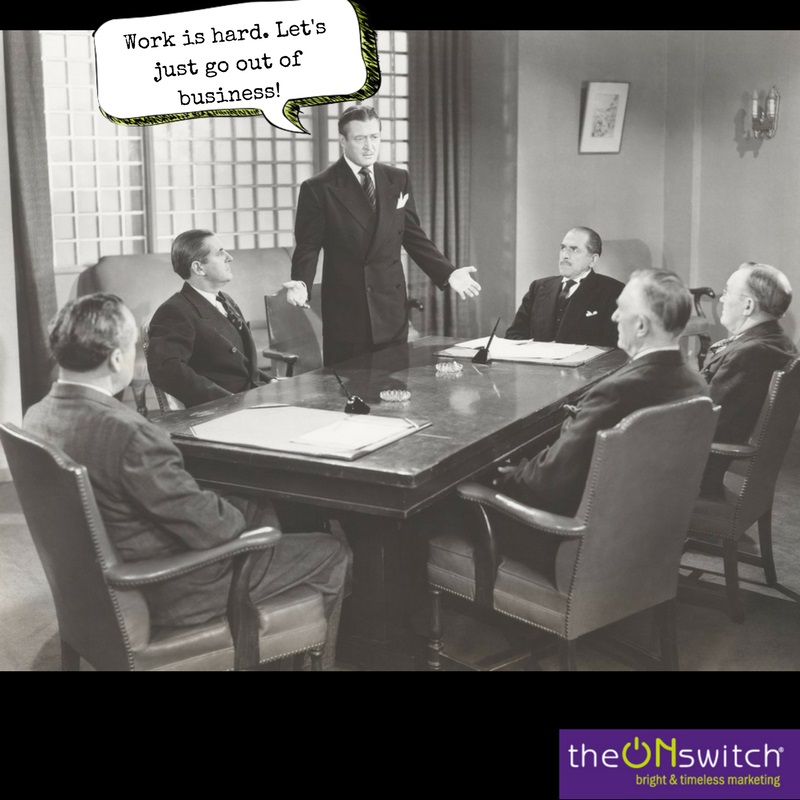 Reading Time:
3
minutes
Indulge me in a brief feminist "rant" this week.
The word "rant" to me means controlled stream of consciousness, by the way. A publicist didn't want me to include it in this blog's title because she thought it might sound too "out-of-control-woman-like." But I've seen lots of important people in business, government, and media (including many men) indulge in ranting. So if you can't beat 'em…
Twice in the past year I asked event organizers why more women weren't in the audience or on stage at conferences and their response was "It's hard to find them."
I have never known "It's hard" to be a valid response to anything. If you ask the Eagles or Pats why they didn't win the Super Bowl this year, they wouldn't respond with a generic "It was hard." I could never say "It's hard" when a CEO asked me why I didn't hit my goals for the year. And trust me — having a C-level position while raising two kids was REALLY hard. As was launching and running a business for 14 years while tending to life issues.  But I didn't walk around whining about it.
The bottom line is this: Life is hard. Work is hard. Balancing work with life is hard. Making new friends and generating new business in a new city is hard. Getting in shape is hard. What do we do when we face hard stuff? Read on for the answers.
Now back to our regular blog programming…
Topic: Breaking in to a new environment (Arizona) after six decades of being a New Yorker and tips to help you face new situations and environments.
This week, I was VERY selective in how I spent my time and energy. Next week I'm going to be even more selective. (See last week's post on "the rose.") When facing a hard challenge, part of the solution lies in having an open mind and heart but being very mindful of how you spend your time and energy. Some tips:
Get out of town — literally and metaphorically. I took a 24-hour trip to LA for a conference and met a whole new range of people and absorbed many new ideas.
When you meet those new people, follow-up within 24 hours. Even if it's just a LinkedIn connection, you need to make sure that those inspirational people don't wind up in a lonely pile of business cards on the bottom of a bag. (BTW…here are my 20-minute business trip packing hacks.)
Balance chill time and exploring/socializing time. I admit that I overdid last week. This week, I went to a great panel on the educational environment in Arizona, sponsored by the Greater Phoenix Chamber of Commerce (because I'm looking for an adjunct teaching position) and attended the industry conference in LA. But I spent took two hours with my new friends at Jessica Knits. Our class is over, but we agreed to keep in touch and even start a Facebook group and expand our circle to other smart women (and men) who like to make stuff with yarn. I also had lunch with Betsy, my co-organizer for a new group in the Phoenix area. A fellow New Yorker, she has become an amazing sherpa and friend in just a few weeks. (She also knows where to find the best salads in town!)
Embrace your FOMO. Do not feel compelled to experience everything a new environment has to offer. The Waste Management Phoenix Open is in Scottsdale this week, and although I've been told it's amazing, I am on crowd overload. I can go next year.
Clients come first. Well, actually, your own health and family come first. But the point is that no matter how many other things are going on in your life and "personal brand," you need to focus on the people who trust and support you (literally). This week I "onboarded" with my newest client (UpCity) and had planning sessions with three others (New York Deli Pickle, Camp Lantern Creek, and JCC Maccabi Sports Camp.  Making time for the most important people in your business (your customers) is sometimes hard, but it's essential.
Yup…life is hard…time is limited. But we all need to:
Come up with truly creative solutions to tough problems — keep an open mind and engage others in problem-solving if necessary (or outsource)
Chunk tough challenges into little tasks. Be patient…set deadlines (and meet them).
Stop staying "It's hard." That'll only make it seem harder.
NOTE: This is Chapter 5 in the Re-Booting series. Please subscribe to get my updates each week!