My Birthday Card for Facebook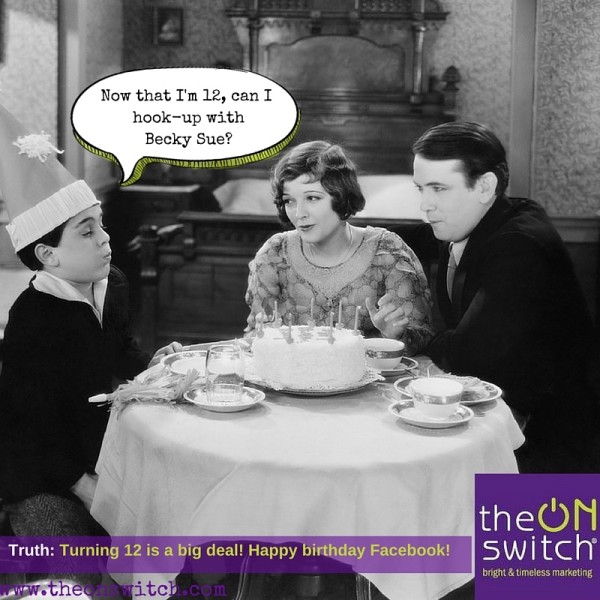 Happy birthday Facebook!
You turned 12 today, which means you're sort of going through puberty at this point. Why is 12 such a critical year? See the link below for one perspective. Here's my birthday card:
Dear Facebook:
I've watched you grow up throughout most of your 12 years. I adopted you when you turned 2 and were left in a basket at the doorstep of adults and small businesses. Now that you're an awkward preteen with glasses and braces, always asking me for allowance (paid ads and boosted posts), and interrupting me during conversations with news about friends, I still love you.
I don't really understand you sometimes, but I always marvel at how fast you've grown. You now have 1.5 billion monthly users, but you're not a slut. You make me laugh, you help me connect with relatives and old friends, and you put up with my narcissistic moments. In fact, you spread them around to other people. You are very creative and have developed an entire line of emojis. That makes me proud. Cheers!

And although I don't always like the fact that you put all my personal pictures in your "pocket" (for potential future use), I understand that you're just trying to find a way to make money and be independent one day. And you keep your room pretty clean and don't allow random people into my space.
I'm eager to see you mature and prosper. But no…you can't have $5 today. I gave you $5 yesterday. Ask your stockholders.
xo
Nancy
P.S. Mark Zuckerberg was a computer programmer at the age of 12. For his complete biography, visit theONswitch Facebook page (and like us please! I hope to hit 1,000 this month!)
Facebook Fun Facts (and other stuff)