Gratitude #6: My "Image Squad" (The Grateful 40)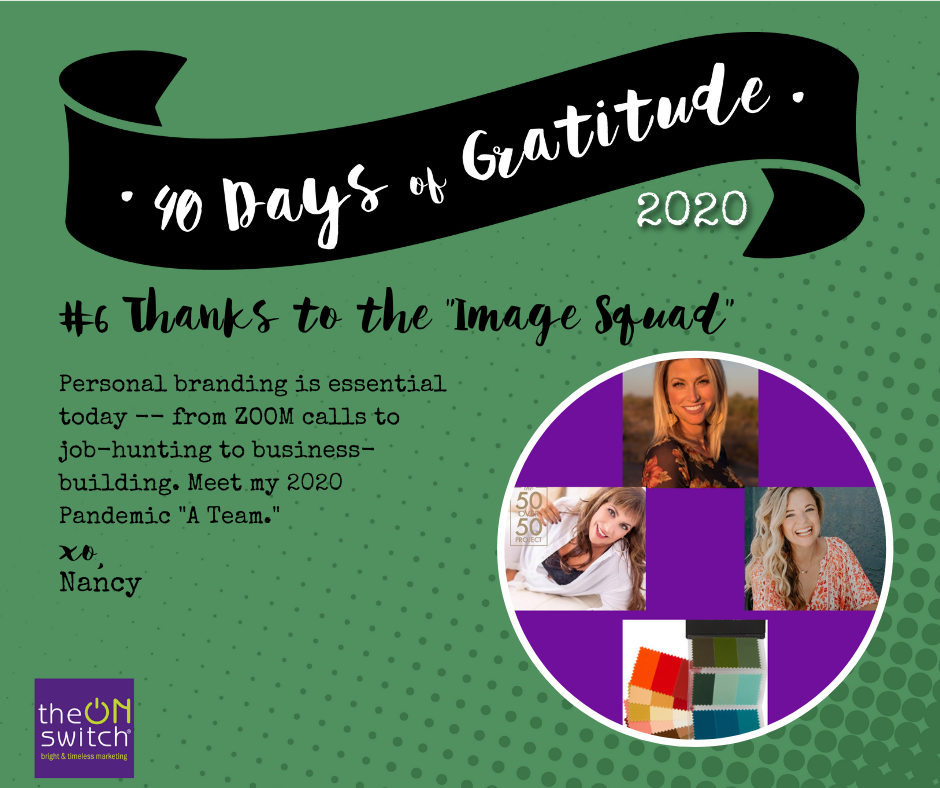 Reading Time:
2
minutes
Ugh…the whole "personal branding" thing has always made me a little uncomfortable.
But it's essential today. Selfie videos, 7AM ZOOM interviews, attempting to break through amidst a sea of content clutter. What's a girl to do?
The reality is that how you present yourself to the outside world and your target customers is more important and more challenging than ever — especially >50.
Building credibility and engagement is the ultimate goal.
Just when I had become comfortable with the speaking stage and TV interviews, I needed to learn a new set of skills — having the confidence and abilities to shoot and record my own messages.
Four women helped me overcome my fears of the small screen.
Rane Mix of The Strand Hair Studio (her own business) is an amazing hairstylist who ensured I rarely have a bad hair day. What's on top of my head now usually matches what's inside it — natural and a little wild.
I had met Jill Kirsh years ago at an event, and we've stayed in touch. She has been a color guru for years (for both women and men) and pushed me way out of my comfort zone, encouraging me to wear more brown, copper, and gold clothes and accessories — and red lipstick. A New Yorker, my fave color is black, so that was a tough sell. But I ultimately followed her direction.
Getting people comfortable with selfie video was  Paige Wilhide's business. Although she has since started a new venture, she consulted on what type of equipment I needed to buy to shoot my own video and look polished on ZOOM calls. She even taught me about important details, like the best lighting and how much space should be above my head on the screen. Although I hated every minute of seeing myself on camera, her lessons made a huge difference.
Shelley Franklin is shooting a photography exhibit exclusively for women over 50. She didn't have to ask me 50 times (or even twice) to participate. After all, I needed new headshots and had only done a "glam shoot" once before in my life. I came away with 10+ images that I can use for many different purposes (business and personal).
My "inner brand" hasn't changed much over the last 20 years since I started theONswitch. I've been described as smart, provocative, visionary direct, and ageless.
Now I'm adding grateful to that list. 
Because ultimately, what's inside your head and heart always matters most — but a little red lipstick and great hair never hurt one's image.
Thank you to the four wonderful women who helped me get my mojo back and allow me to focus on what I'm thinking, saying, sharing, and inspiring/educating rather than how I'm looking. (More thanks to Elle too — who redesigned my PowerPoint template amidst the pandemic — and designed The Gratitude 40.)
Top: Rane 
Right: Paige
Bottom: Jill's customized "swatch book," to use as a guide when dressing, making-up, and shopping
Left: Just one of the 10 great images that Shelley shot