You Gotta Move It! (What's New in Video Marketing at WistaFest 2017?)
Video accounts for 74% of online traffic….
Training, 'splaining, selling, entertaining, branding…video has many purposes. Just as YouTube and Vimeo became the consumer delivery channels for video, Wistia has become the business platform for video content. This small but mighty privately-held Massachusetts-based company just held its fourth WistaFest — a convergence of video producers, agencies, in-house video professionals, and some random folk who just want to learn more about how to shoot, post, and profit.
Although I could only attend the event for < 24 hours, it was informative and inspiring. Plus, I was part of the public unveiling of Soapbox, a do-it-yourself video production and screen-sharing tool, which is so simple that I was able to shoot and post the video below in under 10 minutes!
Soapbox — On Our Soapbox from WistiaFest 2017
Other Highlights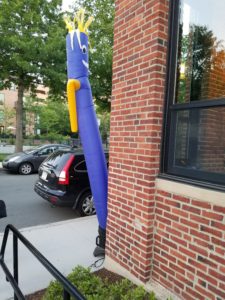 What's a conference without an opening night party? Wistia invited attendees to their offices so they could get a taste of the culture (and oysters that were being shucked on the spot). Supposedly tonight's cruise is the best social gathering of the event, but I had to leave before boarding.
The keynote from Wistia CEO Chris Savage gave us all an honest glimpse into the culture and the story of the company's evolution. Co-Founder Brendan Schwartz introduced some new product concepts and asked for audience feedback via snaps and claps. (I would have preferred a more precise polling method, especially because the company is a tech-driven business — plus the snapping thing is getting a little tired, but I liked the collaborative and customer-focused spirit.)
The sessions themselves were varied and entertaining (although I wasn't able to sit through most of them) and Champ Camp and Soapbox Test Drive were set up as "office hours" for training and Q&A. The company clearly respects human interaction and treats every customer as a valued one, regardless of size and budget.
Sponsors/exhibitors were varied. I had a long chat with the folks from Sticker Mule, who believe the sticker craze is here to stay. (I confess…I've succumbed to peer pressure and have started decorating my laptop…a throwback to my festooned  binder of years long ago.) Slope was demoing a project management system for video producers and talked about the value of conferences in making connections; the company met investors at last year's WistiaFest. Swag and human interaction is timeless, as I often declare.
Speaking of human interaction, I had a great conversation with Stacy Adams, head of marketing at GoAnimate, about the basics of compelling storytelling, learned a couple of new copy writing tricks from speaker Joanna Wiebe, Founder of Copy Hackers, and chatted with Dr. Stephen Brugan, who was teaching himself video production so he could run online classes. Also among the varied attendee base were in-house marketing professionals, like Emily from LearnZillion and Chris Walker from Vapotherm, who were seeking ways to make their training and customer development communications more engaging. I also ran into another member of the Toast team — a company I just wrote about after my time at the National Restaurant Association Show. (Toast is universal.)
The video world has evolved far beyond entertaining cat tricks and long tedious "industrial" films. We are now able to track and analyze viewership, engagement, and sales. One day soon artificial intelligence will be used in video creation and production. (You can read about that, and more, in my new book with Jim D'Arcangelo, entitled "Embrace the Machine."
So, whether you're shooting with an iPhone, stepping on your Soapbox, or hiring a crew to produce an epic corporate story, get your directorial suit on and ride the video wave! It's not ebbing any time soon.